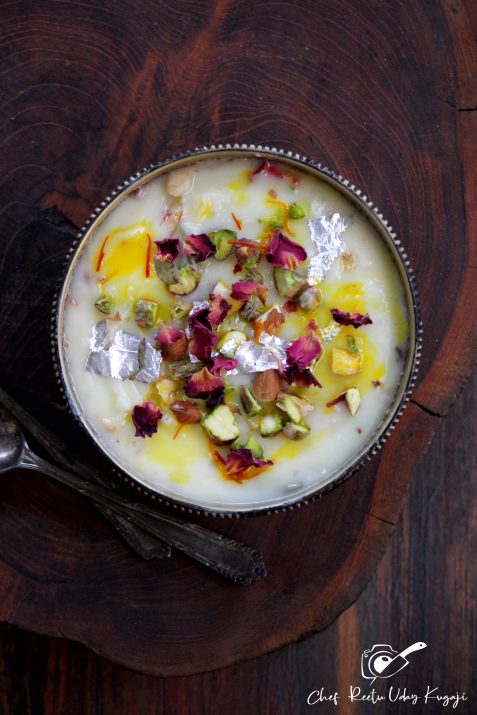 Creamy, smooth and rich dessert with a burst of flavours from the home prepared Thandai Mix powder and Gulkand… Hung Curds, Buchanania lanzan seeds, laced with Saffron and silver leaf and garnished with nuts and dried & edible rose petals. Served chilled.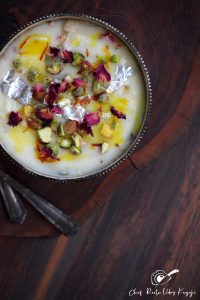 Preparation Time: 10 minutes
Chilling Time in Refrigerator- 02 hours
Serves: 04 .
Ingredients and Quantity:
Hung Curds- 1 ½ cup
Gulkand, preferably prepared at home- 02 tbsp.
Milk – 01 tbsp.
Buchanania lanzan seeds (Charoli seeds/ Chironji seeds), blanched- 02 tsp.
Saffron steeped in a little warm milk- a few strands
For the Thandai Mix Powder (Home-made). Blend into a powder:
Almonds- 04 nos.
Cashew nuts-04 nos.
Saffron- a few strands
Fennel seeds- 1/4th tbsp.
Poppy seeds- 1/4th tbsp.
Peppercorns, black-04 nos.
Cinnamon powder- a pinch
Green Cardamom Powder- ½ tsp.
Mixed Melon Seeds- 1/4th tbsp.
Edible and Dried Rose petals- 02 tsp.
For the applying:
Silver leaf (Chandi Ka Varq) – 1 small sheet
For Garnish:
Saffron strands- 1/4th gm.
Almonds, roughly chopped-10 gm.
Pistachio nuts, roughly chopped – 10 gm.
Rose petals (dried & edible): 01 tsp.
Method:
In a food processor, add Hung curds and gulkand.
Blend it for 20 seconds.
Now add the thandai spice mix powder.
Blend it till smooth.
Add milk to adjust consistency.
Remove in a glass bowl add charoli seeds, saffron steeped in warm milk and mix well.
Chill the shrikhand covered with a cling wrap in the refrigerator for 2 hours.
To serve:
Serve chilled laced with saffron strands and chandi ka varq, garnished with nuts & dried edible rose petals.
Chef Tips:
Instead of a food processor, you may simply whisk the ingredients till well blended.
You may add cold milk if required i.e. if the hung curds are too thick.
You may add grated nutmeg, cloves & pistachio nuts in the Thandai Mix Powder, if desired.