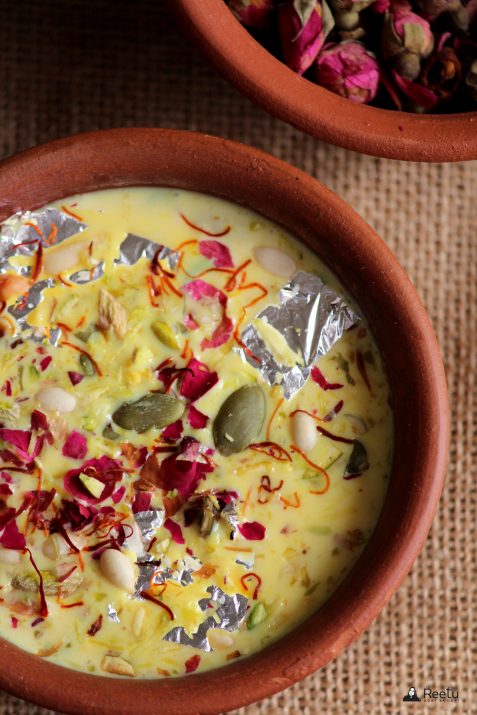 A twist to regular kheer!!!! Go Chilled in this Summer…..
A mind-boggling combination….Ice Apple with the spicy Thandai Spice Mix Paste, cooked in skimmed milk… reduced..
Jaggery…., chilled and served chilled garnished with slivered nuts, lightly toasted pepita, mixed melon seeds , crushed peppercorns ,edible dried rose petals… laced with Saffron.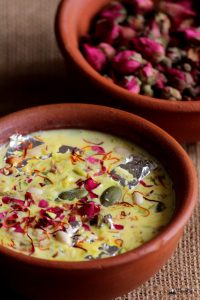 Preparation Time:10 minutes
Soaking Time for Thandai spice mix- 02 hours
Cooking Time: 35 minutes
Refrigeration Time: 01 hour or more if desired
Serves: 4
Ingredients and Quantity:
Ice Apple,tender, peeled and pureed- ½  cup
Skimmed Milk- 03 cups + 01 cup
Jaggery, unrefined , grated- 1/4th tbsp. / or more as desired
For the Thandai Spice Mix:
Almonds- 06 nos.
Cashew nuts-06 nos.
Saffron- a few strands
Fennel seeds- 1/4th  tbsp.
Poppy seeds- 1/4th  tbsp.
Peppercorns, black-06 nos.
Cinnamon powder- a pinch
Green Cardamom Powder- ½ tsp.
Mixed Melon Seeds- 1/4th  tbsp.
Edible and Dried Rose petals- 01 tsp.
To apply: Silver leaf- as required (Optional)
For the Garnish:
Edible and Dried Rose petals- 02 tsp.
Almonds, slivered- 01 tsp.
Pistachio nuts , slivered- ½ tsp.
Pepitas, lightly toasted- 01 tsp
Mixed Melon seeds- 01 tsp.
Black peppercorns, lightly toasted and coarsely ground- 1/4th tsp.
Saffron, broiled- a few strands
Method:
Soak the ingredients mentioned for Thandai Spice Mix in cold milk- 01 cup for 02 hours / overnight.
Prepare a smooth paste and set aside.
In a non-stick pan add ½ cup of water, bring it to a boil add grated jaggery , mix well. Strain and set aside.
In a heavy bottomed non-stick deep pan add 03 cups of milk and bring it to a boil.
Simmer.
Stir occasionally, and let the milk reduce a little.
Add the Thandai paste and cook it for 2 to 3 minutes.
Let the kheer cool completely. Add the Ice apple puree and the Jaggery syrup. Mix well.
Pour into soaked Kasoras / earthenware pots and refrigerate it for 01 hour.
Apply Silver leaf and serve chilled garnished with edible and dried rose petals, almonds, pistachio nuts, pepitas, mixed melon seeds and crushed peppercorn.
 Chef Tips:
Consume this kheer on the same day it is prepared as Ice apple is a perishable fruit.