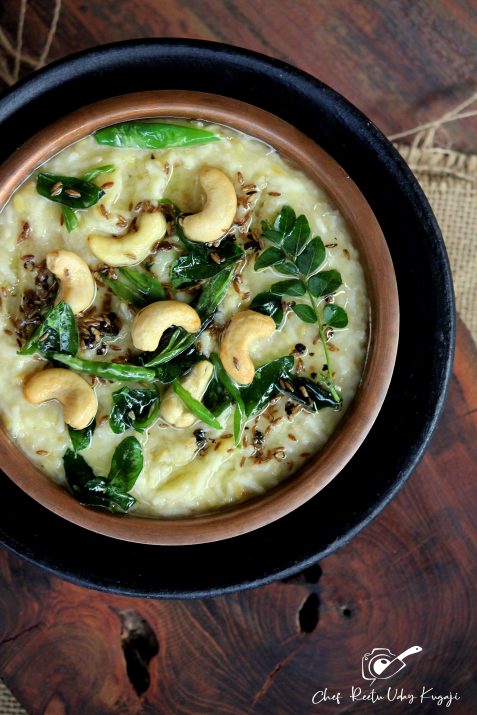 A spicy and savoury dish similar to a khichdi, prepared with freshly harvested rice, moong dal, ginger, tempered with desi ghee, cumin seeds, asafoetida, curry leaves, coarsely ground peppercorns, slit green chillies and cashew nuts. Usually served as Breakfast accompanied with Sambar and Coconut Chutney. Some people still follow the traditional cooking of Ven Pongal in new earthen pots placed in the center of the colourful Rangoli over the wood-fired stove under the sun.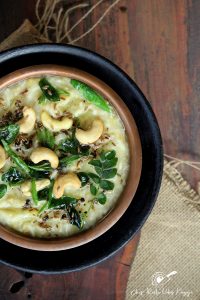 Preparation Time: 5 minutes
Cooking Time: 30 minutes
Serves: 4
Ingredients and Quantity:
Rice- ½ cup
Moong Dal- ½ cup
Ginger, grated- 1 ½ tsp.
Water- 3 cups
Salt- to taste
For the Tempering:
Desi Ghee- 2 ½ tbsp..
Cumin seeds- 1 tsp.
Asafoetida- a pinch
Green chillies (slit) – 4 nos.
Curry leaves- 1 sprig
Black Peppercorns (Coarsely ground)- 14 nos.
Cashew nuts- 16 nos.
Method:
In a heavy bottomed deep non-stick pan, roast the moong dal till you notice it getting slightly brown and aromatic.
Wash the roasted dal and rice.
Add the grated ginger, water and salt to taste.
Cook till the rice and dal are soft and mashed.
Ensure that it is of creamy consistency.
Heat ghee in a tempering pan add cumin seeds, asafoetida, curry leaves, green chillies and black peppercorns. Let them crackle, ensuring that it does not burn.
Now add the cashew nuts and fry till they are a little brown.
Pour the tempering over the Pongal, mix and simmer for 2 minutes.
Serve hot.
Goes best with spicy and tangy sambar or coconut chutney.