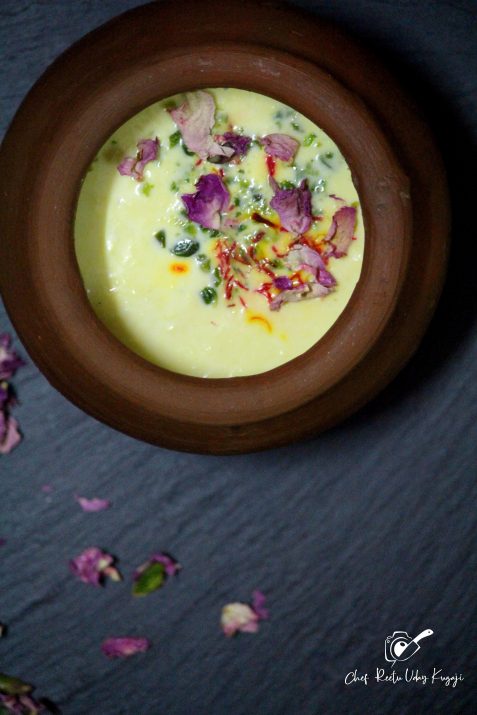 The scrumptious blend of Full-cream milk and ground Sama rice, with a dash of sugar, flavored with green cardamom powder, drizzled with rose water and laced with saffron, garnished with pistachio nuts and edible dried rose petals.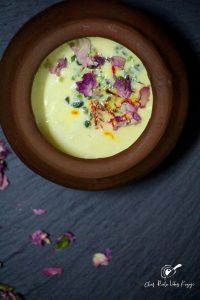 Soaking Time for Rice- 1-1 ½ hours
Preparation Time: 10 minutes
Cooking Time: 45 minutes to 60 minutes
Chilling time in Refrigerator: 1-1 ½ hours
Serves:04
Ingredients and Quantity:
Full cream milk -1 ¼ th litres
Sama (Samak ,Samvat) rice, soaked -1/4th cup
Saffron, broiled -01 gm.
Pistachios -30 gm.
Sugar -1/2 cup or as required
Green cardamom powder – ½ teaspoon
Rose water- ½ tbsp.
For the garnish:
Pistachio slivered-15 gm.
Saffron, broiled-1/2 gm.
Rose Petals dried-02 tsp.
Method:
Pick, wash and soak rice for 1 ½ hours.
Boil milk in a heavy bottomed pan and set aside. Drain and grind the sama rice coarsely.
Broil saffron and set aside. Blanch pistachios, peel and cut into slivers.
Add the coarsely ground rice paste to the milk and cook stirring continuously so that there are no lumps and it does not burn or stick to the bottom of the pan.
Add Sugar and mix. Add green cardamom powder, saffron and mix. Add rose water. When the mixtures starts thickening take it off the flame.
Pour into soaked Kasoras / earthenware pots and keep them in the refrigerator to chill for 1 to 1 ½ hours. g
Served chilled garnished with slivered pistachio nuts, saffron and dried edible rose petals.
Chef Tips: If it is not to be consumed for fasting in Navaratri then fragrant rice or other rice varieties may be used.