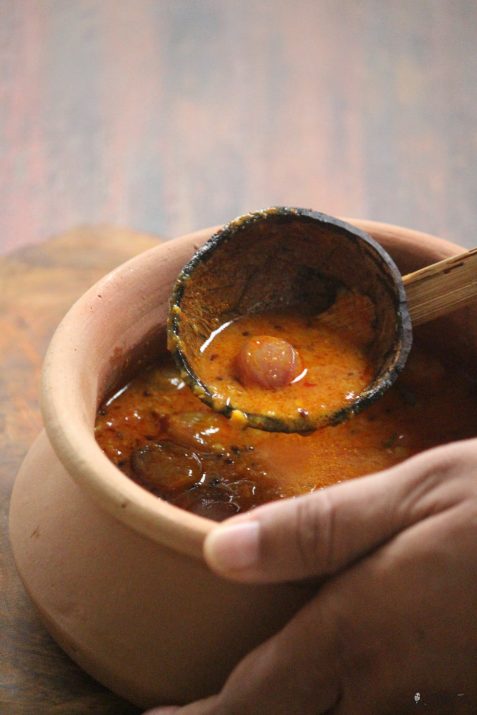 A comforting Sambar prepared the Tamil Nadu Style …  Prepared with cooked and mashed split red gram, whole pearl onions , home-made sambar masala, tamarind pulp with a sizzling tempering of oil, mustard seeds, cumin seeds, fenugreek seeds, whole Red chillies ,fresh curry leaves, a pinch of Asafoetida and Pearl Onions.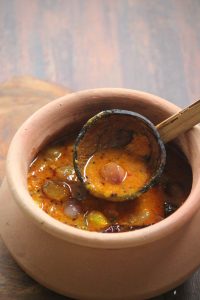 Preparation Time: 20 minutes
Cooking Time: 25 minutes
Serves: 4  
Ingredients and Quantity:
Split Red gram – ½ cup
(Tur dal ,Toor Dal, Toovar dal , Arhar dal)
Turmeric powder- 1/4th tsp.
Water- 2 ½ cups
Drumsticks, clean, peeled and cut into 2 inch pieces- 1 no. (Optional)
Salt- to taste
For the Paste:
Oil / Coconut Oil- 1 tbsp
Fenugreek seeds- 1/4th tsp.
Dried whole red chillies, stem and seeds discarded- 6 nos.
Asafoetida powder- a pinch
Cumin seeds- ½ tsp.
Coriander seeds- 2 tsp.
Split Bengal gram
(Chana dal)- 1 tbsp.
Poppy seeds- 1/4th tbsp..
Coconut, grated- 1/4th cup
Small sambar onions (Pear Onions, Madras Onion, Shallots)-100 gm.
For the tempering:
Oil – 2 tbsp.
Mustard seeds- ½ tsp.
Cumin seeds- ½ tsp.
Fenugreek seeds- 1/4th tsp.
Whole Red chillies -2 nos.
Curry leaves-  1 sprig
Asafoetida- a pinch
Small sambar onions / Shallots ,peeled and whole- 20 nos.
Tomatoes, red, quartered- 2 small
Home-made Sambar Masala Powder- 1/4th tbsp.
Tamarind pulp-2 tbsp.
For The Garnish:
Fresh Coriander leaves, finely chopped- 1 tbsp.
Method:
Pick, wash and soak Split red gram.
Cook in 2 ½ cups of water with salt and turmeric added into it.
When dal is ½ done add drumsticks to it.
Once cooked keep the dal aside.
For paste: Heat oil add fenugreek seeds, whole red chillies, asafoetida, cumin seeds, Coriander seeds, Bengal gram dal (chana dal) and poppy seeds. Grind to a fine paste adding the coconut and shallots using very less water. Add the ground paste to the cooked dal.
For Tempering: Heat oil add mustard seeds, cumin seeds, fenugreek seeds, whole red chillies, curry leaves and asafoetida. Let them crackle / splutter add the shallots cook till golden brown, now add the tomatoes, cook for 2 minutes, add tamarind pulp cover and cook for 5 minutes till the raw aroma disappears. Add the sambar masala powder; let it cook for few seconds. Add ½ tbsp.  of water. Mix well.
Pour the tempering over the dal, mix well.
Add water and adjust consistency if the sambar is too thick.
Bring to a boil.
To Serve:
Serve hot garnished with chopped coriander leaves.
Goes best with Steamed Rice.
Chef Tips:
Though this sambar is prepared with the addition of pearl onions only, you may however experiment by adding vegetables of your choice. I am a great fan of drumsticks… therefore have added them too.