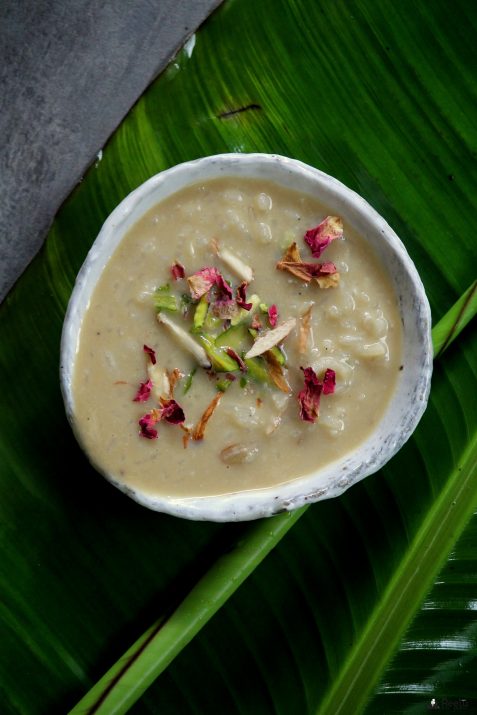 A Traditional Bengali rice pudding especially is prepared during the winters. It is prepared with the short grained, aromatic and sticky rice called Gobindobhog which imparts a sweet buttery flavour to the payesh, has the earthy and smoky flavor of the delectable Nolen Gur (Date Palm Jaggery and creaminess of full-cream milk. Served chilled or warm garnished with slivered nuts and dried edible rose petals.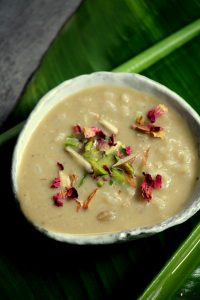 Preparation Time: 10 minutes
Cooking Time: 30 minutes
Serves: 4
Ingredients and Quantity:
Milk, full cream – 750 ml.
Heavy Cream- ½ cup
Rice (gobindobhog/ dubraj)- ½ cup
Date Palm Jaggery Shavings- 04 tbsp.  Or as required
Bay leaves- 02 nos.
Cardamom powder-1/4 th tsp.
Raisins, golden-10 gm.
Almonds (Blanched, peeled and finely slivered)-10 gm.
Pistachio nuts-10 gm.
For the Garnish:
Almonds, slivered-10 gm.
Pistachio nuts, slivered-10 gm.
Dried and Edible rose petals- 2 tsp
Method:
Pick, wash and soak rice (gobindo bhog/ dubraj)  for 30 minutes. Drain water and let it dry completely for some time.
Add milk  and cream in a large heavy bottomed  pan add bay leaves and cardamom powder. Simmer till thick (reduced) add the drained rice. Add sugar .Stir continuously. Cook it on a low flame till the rice become soft (till the rice cooked up to 60 – 70 %).
Take off from the heat and add the date palm jaggery,  mix it well with the milk. Now on a very low heat keep on stirring till the jaggery melts completely and is incorporated well.
Add raisins, almonds slivers and pistachio nuts.
You may serve it chilled or warm as desired garnished with slivered Almonds ,Pistachio nuts and Dried edible rose petals
Chef Tips:
Stirring continuously, otherwise rice and milk will be separate.
You may sear the rice in a little pure ghee after draining and drying it.
Rice should not be overcooked (rice should be cooked up to 80%.
If the jaggery is added on a high flame, milk will get curdled.
Jaggery (Grated) may just be mixed in the payesh without putting it on the flame in order to prevent it from curdling. (Has to be mixed so that it melts and incorporates properly in the payesh)
It may be served warm / hot / chilled, as desired.