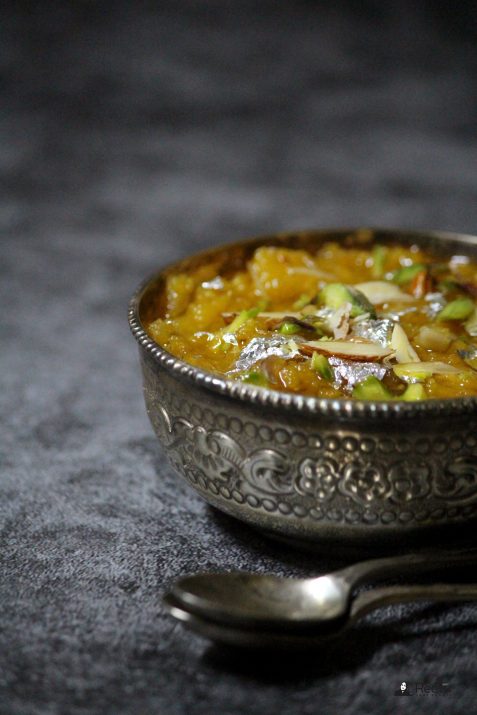 Winters are here, get ready to prepare this delicacy and keep yourself warm in this freezing weather. Fragrant and very delectable Halwa is prepared with soaked and coarsely ground paste of split green gram, skinless, cooked slowly in clarified butter sweetened with sugar syrup, sprinkled with green cardamom powder, laced with saffron and slivered almonds.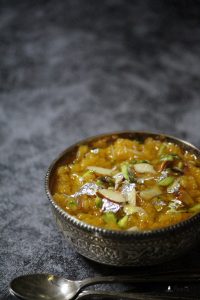 Soaking Time for Dal: 3 Hours
Preparation Time: 20-25 minutes
Cooking Time: 35 minutes
Serves: 4
Ingredients and quantity:
Split green gram skinless (Dhuli Moong Dal) soaked and ground to a coarse paste-1 cup
Clarified Butter (Desi Ghee)-1 cup
Bengal Gram flour (Besan) – 1 tbsp.
Milk – 1 1/4th cup
Saffron – ½ gm.
Sugar -1 cup
Khoya (Mawa), grated – 1/2 cup
Green cardamom powder- a pinch
Almonds, slivered- 02 tsp.
For the Garnish:
Almonds, slivered- 2-3 tsp.
Saffron, broiled- a few strands
Silver Leaf (Chandi ka varq)-1 sheet (Optional)
Method:
Soak the moong dal in enough water for 3 hours. Drain well and blend in a mixer to a coarse paste without using any water. Keep aside.
Heat ghee in a non-stick pan, add gram flour and mix well. Add moong dal, lower the heat and mix well.
Sauté, stirring continuously ensuring that it does not burn, till it is golden brown in color or for 20-25 minutes.
Heat milk add saffron and mix well, let it boil for 2 minutes Switch off the flame.
Heat sugar and 1 cup water in another non-stick pan. Cook till sugar dissolves completely.
Add the saffron milk to moong dal and mix well and keep stirring. Add grated khoya, cardamom powder, Almond slivers and sugar syrup to it.
Mix well, cover and cook on low heat for another 5 minutes, stirring once a while. Remove the lid, mix well. Switch off the flame and transfer in a serving dish / bowls.
Serve hot garnished with silver leaf, broiled saffron and slivered almonds.