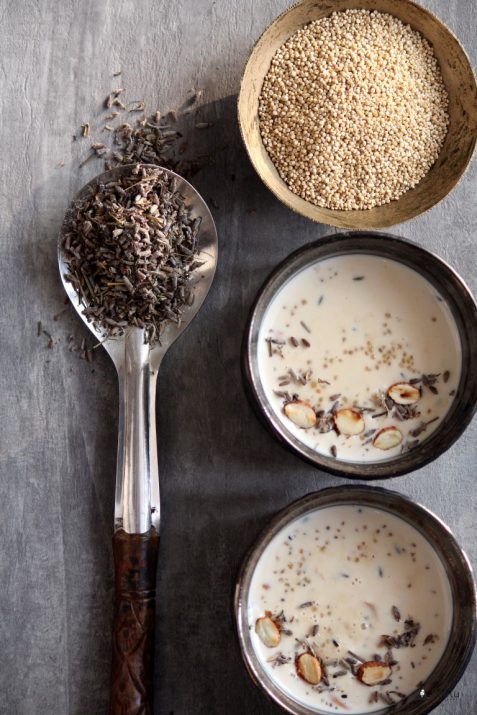 Try this absolutely delectable Lavender flavored quinoa pudding with the goodness of coconut milk, sweetened with Jaggery, garnished with lightly toasted Almonds.
Preparation Time: 5 minutes
Cooking Time: 30 to 35 minutes
Serves: 4
Ingredients and Quantity:
Quinoa- 1/4th cup
Lavender, organic, dried and edible- 2 tsp.
Coconut Milk, unsweetened- 4 cups
Cinnamon Powder- ½ tsp
Jaggery, organic, grated- 2 to 3 tsp.
Salt –a pinch
For the Garnish:
Lavender, dried and edible- 1 tsp.
Almonds, lightly toasted- 01 tsp.
Method:
Wash and drain quinoa thoroughly in a fine mesh.
In a deep heavy bottomed non-stick pan pour the coconut milk add the drained quinoa and cinnamon powder, bring to a boil and simmer.
Simmer for 25 minutes. Stir occasionally.
Now add lavender. Add a pinch of salt. Mix. Let it simmer for another 5 minutes. Add Jaggery and mix well. Switch off the flame.
Ensure that the pudding is thick and the quinoa has absorbed enough milk to be cooked through and is tender.
Pour the pudding into bowls and enjoy this delectable and healthy pudding garnished with lavender and lightly toasted almonds.
Chef Tips:
Cool down the pudding and you may garnish it with fresh berries or fruits of your choice.