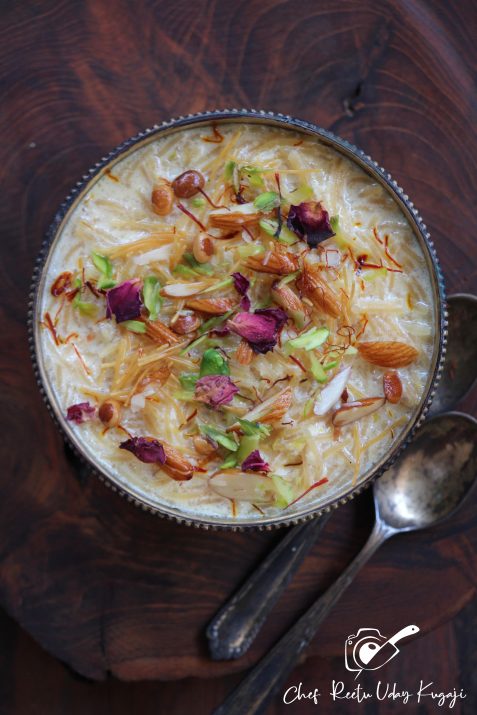 Also known as Sheer Korma which literally means Milk with Dates in Persian. Sheer stands for "Milk" and Khurma for "Dates".
A lip-smacking rich dessert prepared with fine vermicelli, milk, dates and clarified butter, garnished with slivered nuts.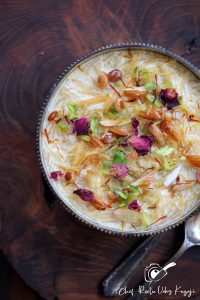 Preparation Time: 10 minutes
Cooking Time: 15 minutes
Serves: 4
Ingredients and Quantity:
Vermicelli, fine, broken- 3/4th cup
Milk, full-fat, boiled- 01 litre
Clarified Butter (Desi Ghee)- 02 tbsp.
Sugar- 30 gm. / or more as desired
Dates, seedless and chopped- 08 nos. / more if sugar is excluded / not added.
Almonds, slivered- 15 gm.
Pistachio nuts- 15 gm.
Cashew nuts, chopped- 15 gm.
Golden Raisins- 10 gm.
Chironji (Charoli), blanched- 01 tbsp.
Green Cardamom powder- ½ tsp.
Saffron strands, broiled- 1/4th gm
Rose Water- 01 tsp.
For the Garnish:
Rose Petals, dried and edible- 02 tsp
Almonds, slivered- 1/4th tbsp.
Pistachio nuts- 1/4th tsp.
Method:
Heat the desi ghee in a heavy bottomed non-stick pan.
Add the slivered nuts and sauté till light brown. Add raisins and the blanched chironji (charoli).
Add the vermicelli sauté till it gets a light rust colour.
Add the boiled milk and chopped dates.
Let it cook for 10 minutes. Add the saffron strands, sugar, green cardamom powder and rose water. Stir. Let it cook for another minute. Switch off the flame.
Transfer into serving bowls and serve chilled / hot / warm garnished with rose petals and slivered nuts.
Chef Tips:
You may add nutmeg powder, if desired.