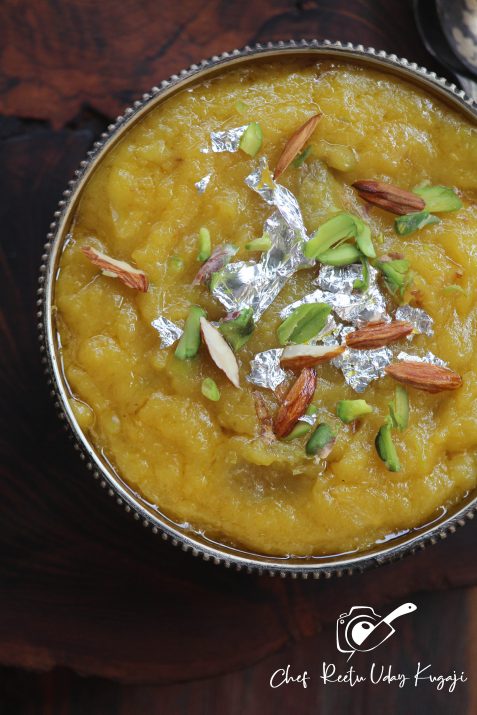 Mumbai ki Baarsh aur Mitti ki Sondhi Sondhi Khushbu… It's so pleasant soothing and romantic. Feels like just sit at the window and keep watching the beautiful sky and raindrops. Wanted to make a cup of coffee… realized that I had loads of corn on the cob, thought of grilling it at first then thought why not have something that soul-warming…prepared Bhutte ka halwa…One needs patience to make this halwa but trust me the end result is amazing.
Creamy, rich, delectable and smooth like silk halwa prepared with puree corn kernels, slow-cooked in desi ghee, sweetened with sugar, goes in … loads of slivered nuts and raisins, mildly flavoured with green cardamom powder, laced with chandi ka warq…. topped with slivered nuts.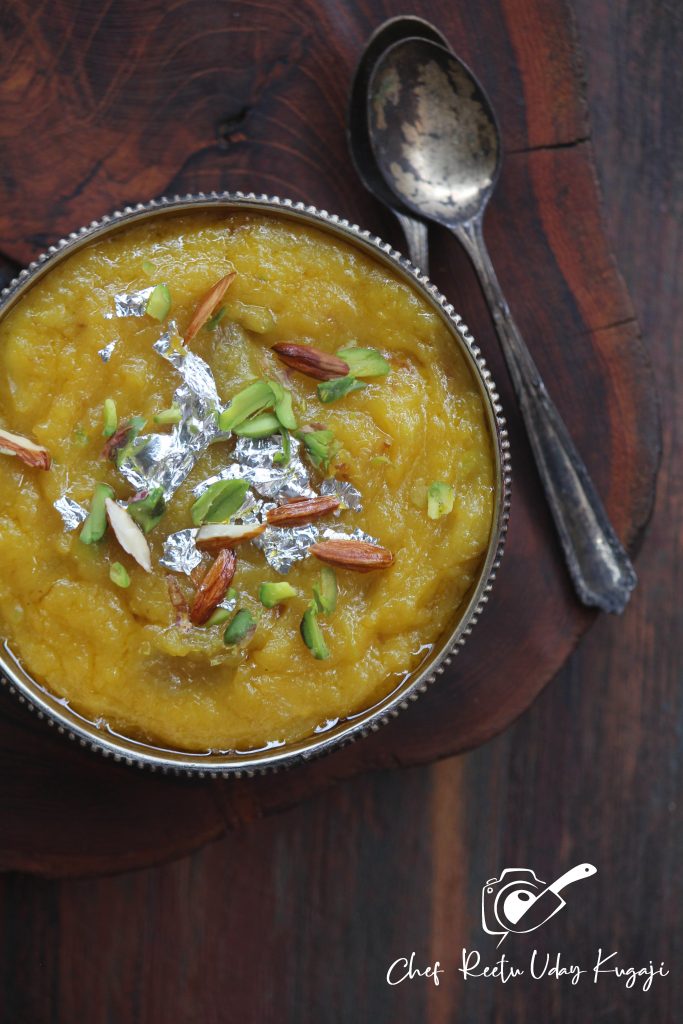 Preparation Time:10 minutes
Cooking Time: 20 to 25 minutes
Serves: 4
Ingredients and Quantity:
Bhutta (Corn on the cob)- 4 nos., husk removed and discarded, corn kernels pureed- 1 cup
Desi Ghee – 1/4th cup.
Sugar- 4 tbsp / more or less as desired.
Water- 1 ½ cup
Almonds, slivered- ½ tbsp.
Pistachio nuts, slivered- ½ tbsp.
Raisins- ½ tbsp.
For the flavouring:
Green cardamom powder- 1/4th tsp.
For the lacing:
Silver Leaf (Chandi Ka Warq)- 1 small sheet
For the Garnish:
Almonds, slivered- ½ tbsp.
Pistachio nuts, slivered- ½ tbsp.
Method:
Shave the bhutta (Corn on the cob), only to get the kernels.
Blend the corn kernels till a smooth purée / paste.
In a heavy-bottomed kadhai add desi ghee.
Once it is hot, add the paste and cook for 2 minutes over ahigh flame, stirring it continuously.
Lower the flame to a medium heat, cook and occasionally stir it for another 15 minutes ensuring that it does not burn.
Once the ghee starts oozing out of the paste add hot / lukewarm water.
Be careful at this stage as the halwa has the tendency to splutter, you may cover, and then open and stir till a little water is absorbed.
Add sugar and green cardamom powder.
Mix well.
Let the sugar melt.
Once the halwa thickens and you can see the ghee oozing out.
Switch off the flame.
Serve hot in dessert bowls, laced with silver sheet and garnished with slivered almonds and pistachio nuts.
Chef Tips:
You may add saffron strands, if desired.
Do not add too much of flavourings as it might mask the delicate flavour of bhutta.
You may add milk instead of water.
You may add grated khoya, if desired.