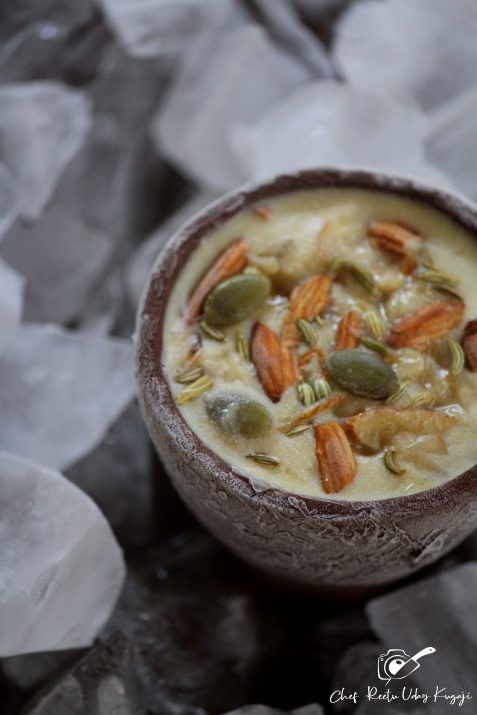 How about an Immunity Boosting Sugar-free Kulfi CreamY yet ChunkY in wiNtErS?
Indubitably the most delectable kulfi in an Earthenware Pot. A frozen dessert that is prepared with grated and chunks of spiced jaggery, reduced full-fat milk , Almond paste and garnished with lightly toasted slivered almonds, fennel seeds and pumpkin seeds.
Served chilled in the Earthenware Pots (Matka / Kulhad)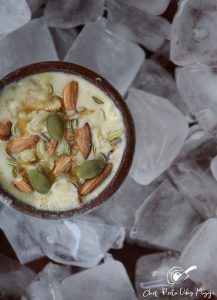 Preparation Time: 10 minutes
Cooking Time: 25 minutes
Chilling Time in the Freezer: 08 hours
Makes: 04 medium sized matkas / kulhad
Ingredients and Quantity:
Masala Gud (Spiced Jaggery), grated- 1/4th cup
Masala Gud (Spiced Jaggery), chunks- 02 tbsp.
Full-fat milk – 2 litres
Almond paste- 1/4th tbsp.
For the Garnish:
Lightly toasted slivered almonds- 04 tsp.
Lightly toasted fennel seeds- 02 tsp.
Lightly toasted pumpkin seeds- 04 tsp.
For the Covering of Matka-
Muslin cloth, unbleached and food safe- 1/4th metre
Or
Food Grade Aluminium foil – as required.
Method:
Boil milk in a heavy bottomed non-stick pan. Keep stirring till the milk reduces to ½ of its actual quantity. Add almond paste.
Remove from the flame and pour it in a wide glass bowl and cool it completely.
Add the grated spiced jaggery. Mix well. Now add the chunks and mix lightly so that this can give a chunky texture to the kulfi.
Pour into soaked Kasoras / earthenware pots.
Sprinkle with the slivered almonds, lightly toasted fennel seeds and pumpkin seeds.
Cover each matka / kulhad with a small muslin cloth and tie it.
Place the kulfi matkas / kulhad in the  freezer for 08 hours. Serve chilled.