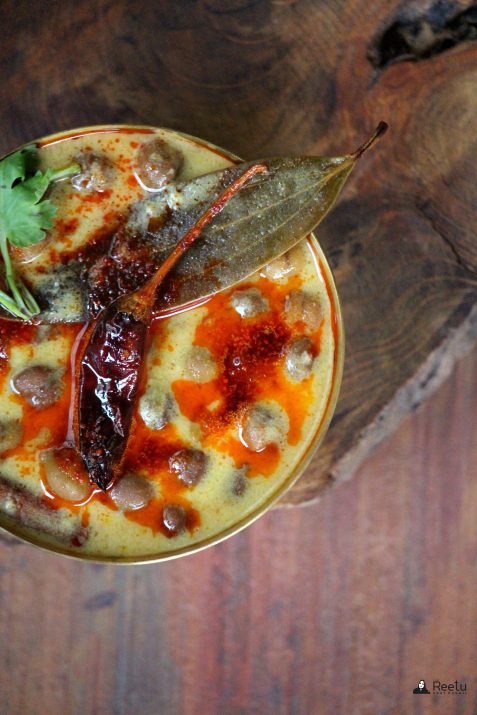 Immensely popular recipe from Jaisalmer is also known as Kale Chane Ki Kadhi. This lip-smacking traditional recipe is spicy yet comforting and is prepared with Black Chickpeas, Bengal Gram Flour Curd and  aromatic spices ,tempered with Desi ghee, Asafoetida , Cumin seeds, Red Chilli Powder and Whole Dried Mathania chillies. Served hot garnished with fresh coriander leaves. A unique combination where Mustard oil is used in its preparation and Desi Ghee for its tempering.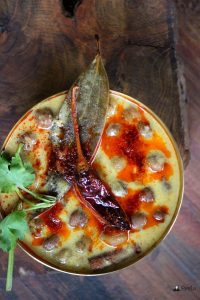 Preparation Time: 10 minutes
Soaking time of black chickpeas: Overnight
Cooking Time: 20 minutes
Serves: 4
Ingredients and Quantity:
Black Chickpeas (Kale chane) – 1 cup
Water- 4 cups
Salt- 1/4th tsp.
Curd, whisked- 1 cup
Bengal Gram Flour (Besan)- 2 tbsp.
Red chilli powder- 1 tsp.
Coriander powder- 2 tsp.
Garam masala powder- ½ tsp.
Turmeric powder- ½ tsp.
Salt- 1/4th tsp
Mustard Oil- 2 tbsp.
Bay leaves- 2 nos.
Cinnamon- 1 inch stick
Cumin seeds- ½ tsp.
Ginger paste- 1/4th tbsp.
Garlic paste- ¼ th tbsp.
Green chillies, finely chopped- 2 nos.
Salt – to taste
For the Tempering:
Desi Ghee- 2 tbsp.
Asafoetida- a pinch.
Cumin seeds- ½  tsp.
Whole dried mathania red chillies- 4 nos.
Red chilli powder: ½ tsp.
For the Garnish:
Coriander leaves, finely chopped- 2 tbsp.
Method:
Wash the soaked black chickpeas thoroughly, add 4 cups of water, salt and pressure cook till 3 whistles.
Keep on a low flame till 10 minutes.
Drain the chana and reserve the liquid.
Mash 1/4th quantity of the cooked chana. Keep aside.
Mix together curd, besan, red chilli powder, turmeric powder, coriander powder garam masala powder ,¼ th tsp of salt and 1 cup of reserved liquid.
Heat mustard oil  in a heavy-bottomed kadhai  till smoking point. Switch off the flame . Cool it and then reheat. Now add the bay leaves, cinnamon stick and cumin seeds. When it splutters add the green chillies. Stir.
Add ginger garlic paste and stir. Cook till oil oozes out and the raw aroma disappears.
Add the curd mixture and stir continuously till it boils.
Add the boiled chana along with the reserved liquid or water and mix well.
Simmer covered for 8-10 minutes. Adjust salt and the consistency.
In a tempering pan, heat ghee, add cumin seeds, when they start spluttering add whole red chillies. Remove from the flame. Add red chilli powder, mix and pour on the prepared Chane Jaisalmer Ke.
Serve hot garnished with chopped coriander leaves.