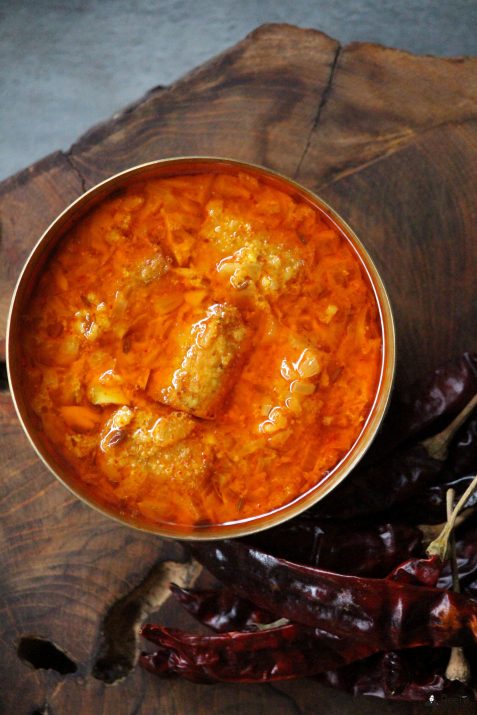 Get ready to soak your soul by consuming this mind-boggling and one of my favorite preparations from Rajasthan which is loaded with desi ghee… Dumplings prepared with Bengal gram flour, various spices, whisked curds,  generous dose of desi ghee …. Poached in water… deep-fried in desi ghee dunked in a spicy and tangy gravy.
Goes best with Bajre Ki Roti.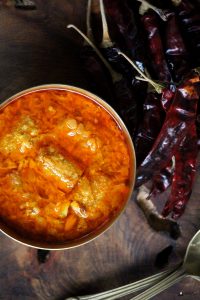 Preparation Time: 30 minutes
Resting Time of Dough- 20 minutes
Cooking Time: 20 minutes
Serves-4
Ingredients and Quantity:
For preparing the Gatte:
Bengal gram flour (Besan) – 200 gm.
Curd, whisked- 3 tbsp.
Asafoetida- a pinch
Cumin seeds(Jeera) ,roasted and crushed- 1/4th tsp
Carom seeds (Ajwain), crushed -1/4th tsp
Aniseed (Fennel), crushed -1/4th tsp
Coriander seeds, lightly toasted and crushed- ½ tsp.
Red chilli powder- 3/4th tsp.
Turmeric powder- 1/4th tsp.
Cloves (crushed)- 2 nos.
Peppercorn – 2 nos.
Mint leaves, very finely chopped- 1/4th tbsp
Salt – to taste
Desi ghee- 3 tbsp.
For Covering the dough:
Muslin Cloth- 1/4th metre
For Deep-frying the Gatte:
Desi ghee- as required for deep frying
For the Gravy:
Clarified butter (Desi ghee)- 2 ½  tbsp.
Cumin seeds- ½ tsp.
Cloves- 2 nos.
Cinnamon- 1 inch piece
Bay leaf- 2 nos.
Asafoetida- a pinch
Onion, finely chopped- 02 large
Garlic , crushed- 8 to 10 cloves
Ginger, ground- 1 inch piece
Red chilli powder- 2 tsp
Coriander powder – ½   tsp.
Turmeric powder- ½ tsp.
Salt – to taste
Curd, whisked- 250 gm.
For the Sprinkling:
Garam Masala Powder- 1/4th tsp
Method:
Peel onion, garlic. Scrape ginger.
Finely chop onion, Grind ginger and crush garlic.
Whisk curds and keep aside.
To make gatte, mix gram flour, asafoetida, crushed cumin ,carom seeds, aniseed, coriander seeds, red chilli powder, turmeric powder, crushed cloves ,black peppercorns, very finely chopped mint leaves and ghee.
Mix this with the help of your fingertips.
Knead a hard pliable dough by adding whisk curds.
Cover the dough with a muslin cloth and let it rest for 15 to 20 minutes.
Knead it with your palms again.
Divide the dough into equal portions.
Prepare cylindrical shape not too long but of even thickness..
Boil water in a container and put them in it.
Let them boil for 05 minutes and once they come on top of the container, then remove it from the flame.
Take out these gatte and cool them. Cut into small pieces. (Reserve the liquid). Deep fry in hot ghee on a medium flame until golden brown and keep aside on a kitchen absorbent paper.
Heat ghee in a heavy-botomed pan and add cumin seeds, cloves, cinnamon  in it, let them crackle. Add bay leaves, asafoetida stir for few seconds. Add ginger and garlic , sauté till the raw aroma disappears and is light brown in colour. Now add the onion, sauté until it turns light golden brown.
Then add red chilli powder, turmeric, coriander powder and salt and sauté for 2 minutes.
Add whisked curds and stir continuously until it comes to a boil. (On a medium heat)
Add water taken out separately and gatte in it and boil for 5 more minutes.
Stir and sprinkle garam masala powder. Serve very hot. Goes best with bajre ki roti.
Chef Tips:
As I am a great garlic lover , I have added crushed garlic to the dough of Gatte.
I do not add Soda-bi-carb in gatte.
I suggest to knead the dough with whisked curds only.
You may add lightly roasted and crushed Kasoori Methi to the gravy.