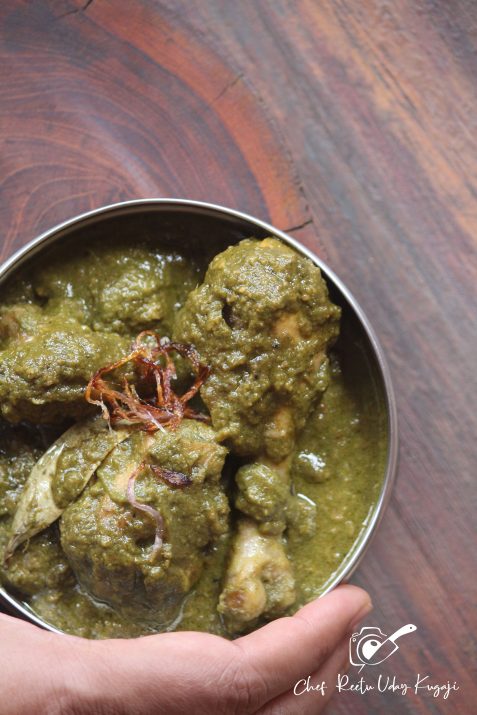 Thecha…. A mind-boggling, spicy and delicious chutney from Maharashtra, which is  coarsely ground on the Sil Batta (patta varvanta)  . It is prepared with flame roasted green chilies , garlic, sesame seeds, roasted peanuts, cumin seeds and dry coconut .  The marinated chicken is cooked and then goes in the Kharda  (Thecha) , cooked further so that the chicken absorbs the flavours, sprinkled with garam masala powder and drizzled with fresh lemon juice. You may garnish it with sliced golden brown fried onion. Goes best with Bhakri.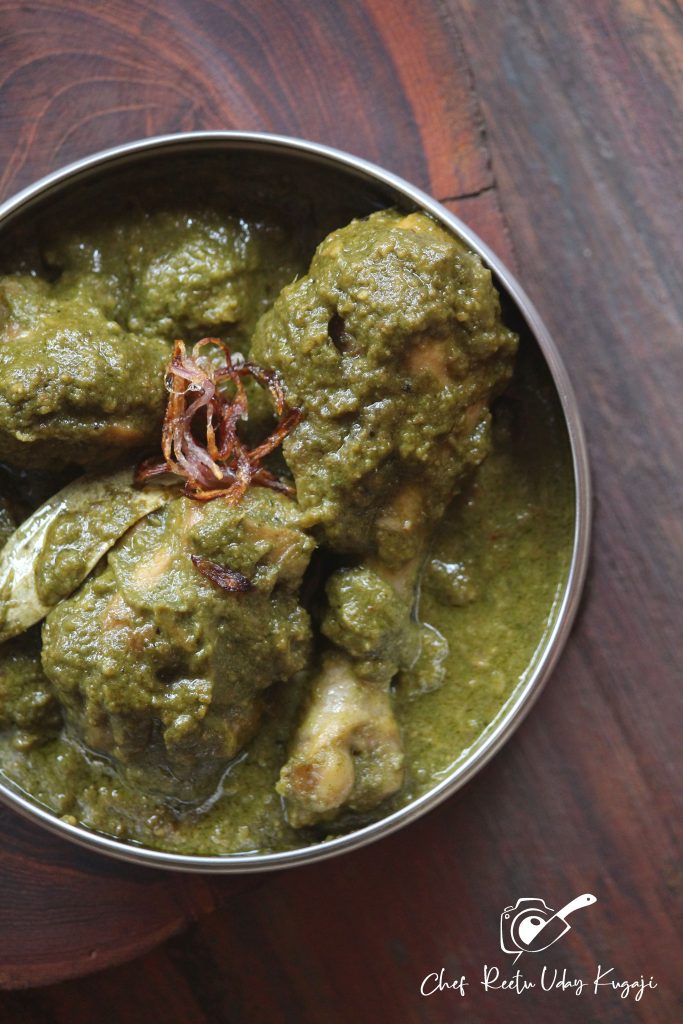 Preparation Time: 15 minutes
Marination time: 2 hours / overnight
Cooking Time: 20 to 25 minutes
Serves:4
Ingredients and Quantity:
Chicken, curry cut,- 750 gm.
For the marination:
Salt- 1/4th tsp
Turmeric powder- 1/4th tsp.
Ginger Paste- 1/4th tbsp.
Garlic Paste- 1/4th tbsp.
For the gravy:
Oil- 2 tbsp + 02 tbsp.
Bay leaves- 2 nos. (Optional)
Onion, large, finely chopped- 1no.
Fresh coriander leaves, finely chopped- 2 tbsp.
Salt- to taste
For the Kharda (Mirchi Cha Thecha)
Oil- 2 tbsp.
Cumin seeds- 1 tsp.
Garlic cloves- 15 nos.
Dry Coconut, grated- 1/4th cup
Other Ingredients for Kharda:
Flame roasted green chillies, stems discarded- 15 nos.
Sesame seeds, dry roasted- 1 tbsp.
Peanuts roasted and skin removed- 2 tbsp.
Fresh Coriander leaves, roughly chopped- ½ cup
For the sprinkling:
Garam Masala Powder- ¼ th tsp.
For the drizzling:
Freshly squeezed lemon Juice- 1 no
For the Garnish:
Fried golden brown , sliced onion- 2 tbsp.
Method:
In a large glass bowl marinate the chicken with salt, turmeric and ginger -garlic paste for at least 2 hours or overnight , cling wrapped in a refrigerator.
In a heavy-bottomed pan add the oil, heat and add the bay leaves and chopped onion, sauté it till translucent.
Add the marinated chicken, sear it on a high flame for 3 to 4 minutes.
Add 3/4th cup of water.
Cover and cook it over a slow flame for 10 to 12 minutes or until chicken is cooked.
Flame roast the green chillies and set aside.
Take another non-stick pan, heat oil add cumin seeds ,garlic cloves , sauté for 1 minute, remove now add the grated coconut, sauté till golden brown in colour, remove and set aside.
Grind on a sil batta (patta varvanta) the green chillies, garlic cloves, dry coconut, sesame seeds, peanuts and coriander leaves with a little water into a coarse paste.
Heat 2 tbsp. of oil in a non-stick pan, add the paste, sauté for 2 to 3 minutes.
Now add the cooked paste in the chicken, mix well.
Cook , uncovered for 2 to 3 minutes.
Sprinkle the garam masala powder , add the chopped coriander leaves and mix lightly and cook uncovered on a medium flame for 2 to 3 minutes.
Switch off the flame and drizzle lemon juice, mix well.
Serve hot garnished with sliced and fried golden brown onions.
Goes best with Bhakri.