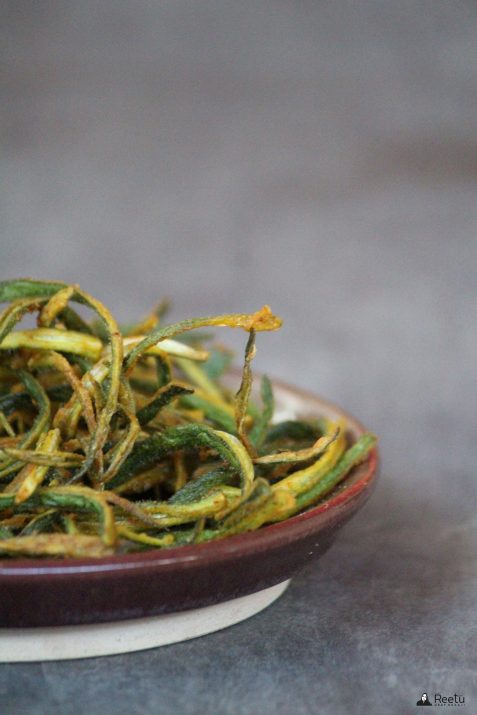 Munch on this spicy fried snack….with kulhadwali adrak ki Chai
Prepared with Ladies finger (Okra), Bengal gram and Rice flour… with powdered spices….
Giving it a fantastic flavour… comes the dry mango powder….. sprinkled with chaat masala.
Sometimes I consume it as a main course with puffed phulkas on which I apply home-made desi ghee ……
Along with my favourite plain curds…..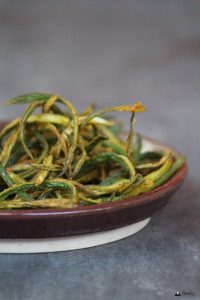 Preparation Time: 20 minutes
Cooking Time: 15 to 20 minutes
Serves: 4
Ingredients and Quantity:
Ladies Finger (Okra) (Bhindi) – 500 gm.
Refined Oil- As required for deep frying
Bengal Gram Flour- 3 tbsp.
Rice Flour- 1 tbsp.
Turmeric- ½ tsp.
Red Chilli Powder- 1 tsp.
Coriander Powder- 1 tsp.
Dry Mango Powder- 1 tsp.
Cumin powder- 1/2 tsp.
Salt –to taste
For the Sprinkling:
Chaat Masala-  3/4 th tsp.
Method:
Wash the ladies finger and wipe it with a kitchen towel / absorbent paper till it is completely dry.
Trim the head and tail. Discard the head and tail.
Cut the bhindi into halves vertically; remove the seeds with the help of a knife.
Discard the seeds
Further cut them into thin strips
Place the bhindi in a bowl add the powdered spices i.e. turmeric. red chilli, coriander , dry mango and cumin.
Now add the Bengal Gram Flour and rice flour.
Add salt just before frying. As salt tends to moisten the bhindi thus making it sticky, which is not favourable for Kurkuri Bhindi.
In a non-stick Kadhai add refined oil.
Once it is hot add the marinated bhindi.
Deep fry till light golden brown and crisp. Remove it with the help of a perforated / slotted spoon.
Place them on a kitchen absorbent paper to remove excess of oil.
Serve hot sprinkled with chaat masala.
Chef Tips:
Dry mango powder not only gives the bhindi a fantastic sour flavour but also prevents bhindi from sticking to each other while it is deep frying.
The reason for adding Rice flour is it makes the bhindi very crispy.
Just before service or while eating you may sprinkle lemon juice.