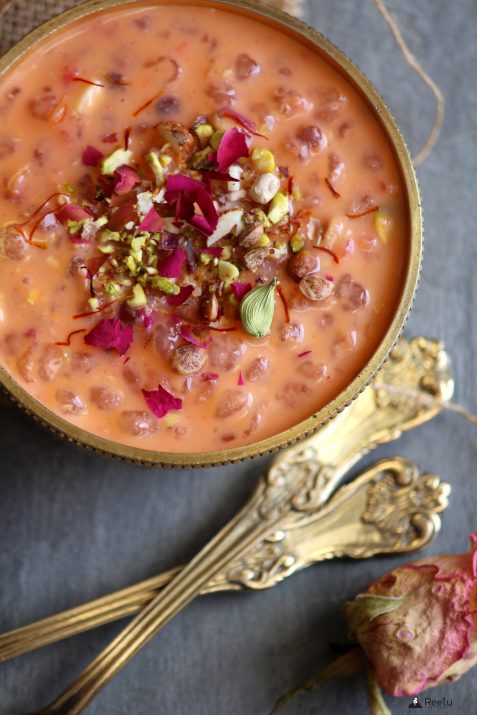 This delectable rich and creamy kheer is prepared with Sago / tapioca Pearls with the goodness of fresh carrots, almond milk, flavoured with freshly ground green cardamom, is loaded with nuts and garnished with dried and edible rose petals laced with saffron strands.
Sugar free it is… Inherent sweetness of carrots.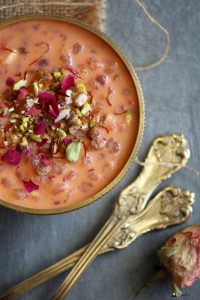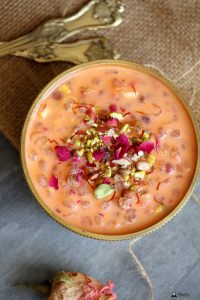 Soaking Time for Sabudana- 04 hours
Preparation Time: 05 minutes
Cooking Time: 20 minutes
Serves: 4
Ingredients and Quantity:
Sago (sabudana) soaked -01 cup
Fresh Carrot, smooth puree- ½ cup
Almond Milk -03 cups
Water- 02 cups
Green cardamom powder -½ tsp.
Almonds lightly toasted and chopped- ½ tbsp.
Pistachio nuts, chopped- ½ tbsp.
Cashew nuts chopped- ½ tbsp.
Raisins- ½ tbsp.
Charoli, blanched- 1/4th tbsp.
For the Garnish:
Lightly toasted and chopped Almonds, pistachio nuts, cashew nuts- ½ tbsp.
Dried and Edible rose petals- 1/4th tbsp.
Saffron strands steeped in lukewarm milk- a few strands
Method:
In a deep non-stick pan, heat 02 cups water.
Add the soaked sabudana, mix and cook till transparent and done.
In deep non-stick pan boil milk, add the carrot puree, mix well and cook on slow flame for 05 minutes.
Add the carrot milk to the cooked sabudana. Simmer for 02 minutes.
Add the cardamom powder and mix well.
Add the raisins, blanched charoli and nuts to the kheer, mix and cook on medium flame /heat for 05 minutes.
Serve warm or chilled as desired garnished with chopped nuts ,dried edible rose petals and saffron strands.
Chef Tips:
Wash the sabudana till the water is clear i.e. for 4 to 5 times and then soak it for 04 hours.