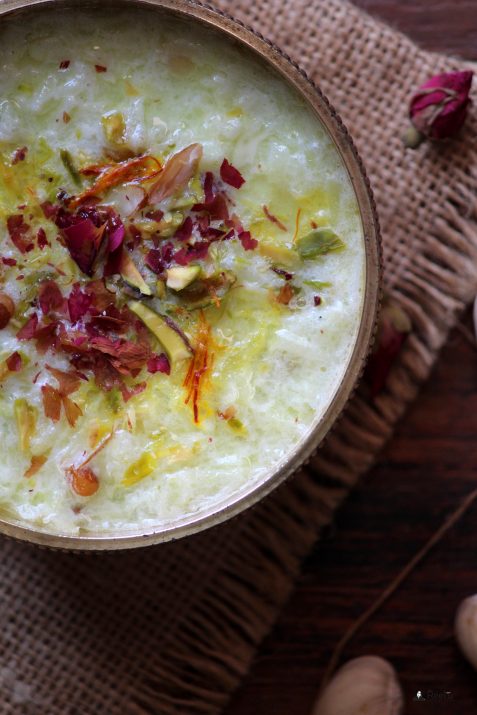 A simple yet delectable dessert, prepared with grated Bottle Gourd, Full-Cream Milk, Clarified Butter and Sugar, flavoured with green cardamom powder and screw pine water. Served Hot or Cold garnished with slivered nuts, saffron strands and dried and edible rose petals. Can be consumed during Navratri fasting (Vrat).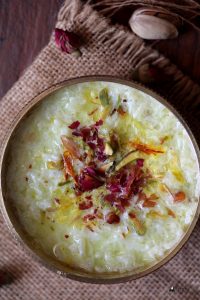 Preparation Time: 10 minutes
Cooking Time: 30 minutes
Serves: 4
Ingredients and Quantity:
Lauki (Bottle Gourd) -500 gm.
Full-Cream Milk, boiled- 01 litre
Ghee- 01 tablespoon
Sugar -1/4th cup
Charoli seeds (Chironji)- 02 tsp.
Green cardamom powder -1/4th tsp.
Kewra (Screw Pine Water)- 1/4th tsp.
For the Garnish:
Slivered Pistachio nuts- 1/4th tbsp.
Almonds, slivered- 1/4th tbsp.
Saffron, steeped in a little warm milk- a pinch.
Dried and edible rose petals- 1/4th tbsp.
Method:
Peel the bottle gourd, cut into half, remove and discard the seeds, wash and grate.
Place the grated Bottle gourd in water to prevent it from becoming brown in colour (Enzymatic Browning)
Squeeze out the entire water from the grated bottle gourd.
Heat ghee in a heavy bottomed deep non-stick pan, add the grated bottle gourd, cook for 05 minutes, stirring it on a medium flame.
Add boiled milk, simmer till it is reduced to 3/4th of its original quantity.
Add Charoli seeds. Stir to mix well. Add sugar.
Cook till sugar dissolves and kheer is semi-thick in consistency.
Add the green cardamom powder and kewra water.
Pour the kheer into individual serving bowls, serve it hot or cold garnished with slivered pistachio nuts and almonds. Drizzle it with the steeped saffron strands. Sprinkle the dried and edible rose petals.
Chef Tips:
You may add grated mawa (Khoya) to the kheer after adding the boiled milk.
You may add fried cashew nuts , if desired