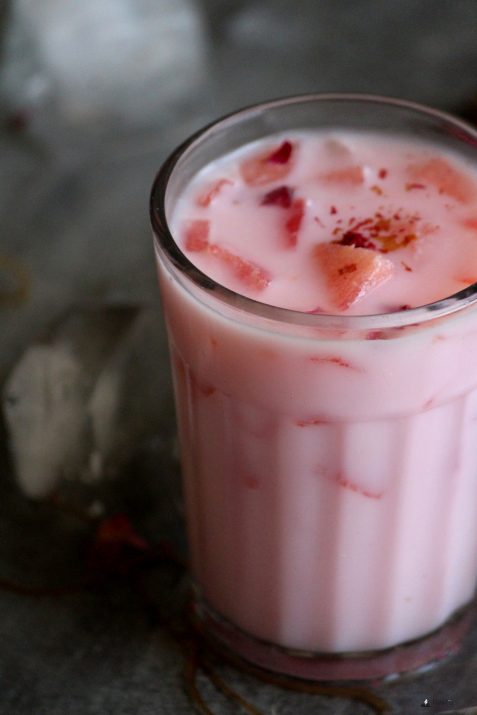 The Thela (Handcart) is run by Nawab Qureshiji, a native of Uttar Pradesh, who had come to Old Delhi (Purani Dilli) a couple of years back. He is the one who is in the making of this absolutely mind-boggling summer drink which is very popular in Old Delhi (Purani Dilli), especially in summers. People simply adore this drink…..
A deliciously refreshing concoction which is prepared with Full-Cream Milk, Rose Syrup / Roohafza, sugar syrup, sliced or cubed watermelon, loads of Ice and a secret Ingredient called Love.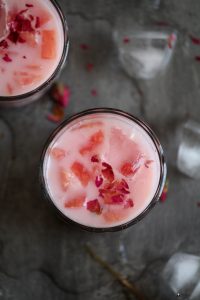 Preparation Time: 10 minutes
Serves: 04 to 06
Ingredients and Quantity:
Full-Cream Amul Milk, boiled, cooled down and chilled- 02 cups
Rooh Afza / Rose syrup- 1/4th cup / or more as desired
Watermelon, seeds discarded and chopped / diced, chilled – 01 cup
Sugar Syrup- as required (Optional)
Water, chilled- 01 cup
Crushed Ice- 01 cup
For the Garnish:
Water Melon, cubed and chilled- 1/4th cup
Edible Rose Petals, fresh / dried- 1/4th tbsp.
Method:
In a deep glass bowl / Jug add the milk, water, and Rooh Afza / Rose Syrup.
Whisk till well mixed.
Add the water melon cubes. Stir to mix
Pour into glasses and add crushed ice.
Serve chilled, garnished with cubed water melon and fresh/ dried Edible Rose Petals.
Chef Tips:
You may add watermelon puree along with the cubes ,if desired
You may also add 1/4th tsp of Kewra Water (Screw Pine Water) to the prepared Sharbat.
You may refrigerated the sharbat for 30 minutes or more, before serving it.