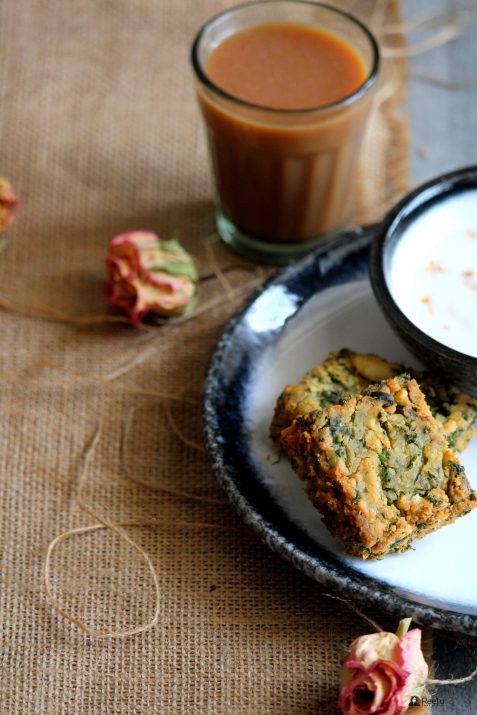 This extremely popular Maharashtrian savoury snack is not only scrumptious but crispy too. It  is prepared with Fresh Coriander leaves, Bengal Gram Flour, lightly toasted and coarsely ground peanuts flavoured with Ginger, Garlic and spices. Steamed and Fried till crisp…. Goes best with a Steaming Hot Kadak Masala Cutting Chai.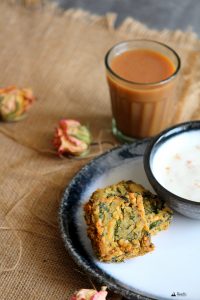 Preparation Time: 20 minutes
Cooking Time: 15 minutes
Serves: 4 to 6
Ingredients and Quantity:
Fresh Coriander leaves, washed, finely chopped and moisture free- 02 cups
Bengal Gram flour (Besan) – 01 cup
Rice flour- 02 tbsp.
Water- ½ cup or as required
Lemon Juice- 02 tsp. (Optional)
Ginger, garlic and green chilli paste- 01 tsp.
Salt- to taste
Sugar- 01 tsp. (Optional)
Turmeric powder- 1/4th tsp
Red chilli powder- ½ tsp.
Coriander powder- ½ tsp. (optional)
Garam masala powder- ½ tsp.
Cumin lightly roasted and freshly ground – 1/4th tsp.
Refined Oil- 01 tbsp.
Peanuts, roasted, peeled and coarsely ground- 1/4th cup
White Sesame seeds, lightly toasted and coarsely ground- 01 tbsp.
Asafoetida- a pinch
Refined Oil to line the plate / tray and apply to palms – ½ tbsp.
For Steaming:
Water: 02 cups
For Frying:
Refined Oil- as required to deep fry / shallow fry
To remove excess of oil:
Kitchen absorbent paper- 04 nos.
Method:
Take a glass bowl add Bengal Gram Flour (Besan) to it add water little by little to make it lump free, add rice flour. Mix well. Batter should be of dropping consistency and free from any lumps.
Add finely chopped coriander leaves, ginger, garlic and green chilli paste. Add red chilli , turmeric, garam masala, cumin powders. Mix.
Add lemon juice (Optional), salt, Sugar (Optional), oil, ground peanut and sesame. Add Asafoetida and mix well.
Pour two cups of water in a steamer, close with the lid and let it come to a boil. Simmer once it boils.
Line a steel thali with oil and pour the prepared mixture, ensuring that it is spread evenly.
Place the thali in the steamer stand and then the entire stand in the steamer. Close the steamer with the lid. On a low to medium flame steam it for 15 minutes.
Insert a skewer in the steamed mixture, if it comes out clean, it means it is cooked.
Remove the thali from the steamer and let it cool completely.
With the help of the butter knife, loosen the edges and invert the thali on a clean and flat surface, tap the thali and unmould the steamed layer.
Cut it into square shapes or desired shape.
In a non-stick pan deep or shallow fry in hot oil over medium flame till it is crisp and golden on both the sides.
Place on an absorbent paper to remove excess of oil.
Serve hot with a chutney / dip / sauce of your choice and Kadak Masala Cutting Chai.
Chef Tips:
You may add 01 tbsp. of yogurt to the batter.
You may add 1 ½ tsp. of grated Organic Jaggery instead of sugar.
You may garnish the vadis with grated / scraped fresh coconut.