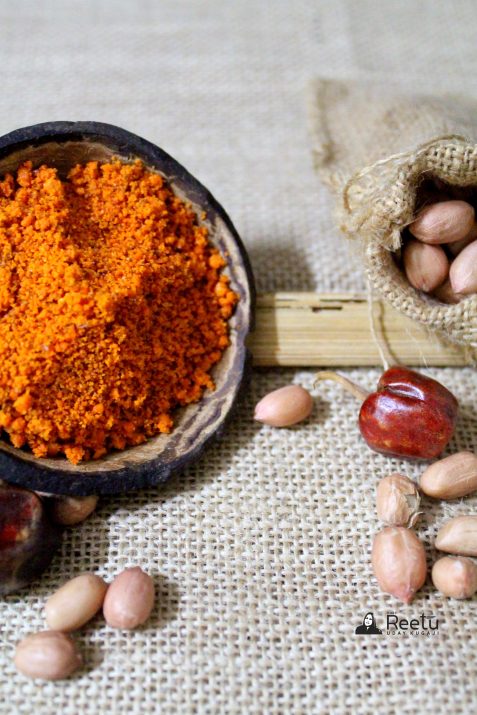 Spicy and very nutty podi from "God's Own Country" Kerala, prepared with sun-dried prawns, coconut, peanuts, chillies and tamarind.
Preparation Time: 20 minutes
Cooking  time : 15 minutes
Serves : 12
Level Of Cooking: Medium
Cuisine : Kerala
Course : Pickles, Jams , Chutneys & Condiments
Ingredients and Quantity:
Dry Prawns -200 gm.
Dry Coconut Powder : 150 gm.
Pea nuts, broiled and peeled – 75 gm.
Whole Red Chillies , stem removed and de seeded: 15 gm / as desired
Shallots -08 gm.
Garlic cloves- 06 nos.
Curry leaves -02 sprigs
Tamarind- 25 gm.
Salt- to taste
Method:
Wash the dried prawns thoroughly under running water, drain out the excess amount of water.
Let it sun dry to remove all the moisture content in it.
Dry roast the prawns to a light golden brown colour and keep it aside.
Dry roast coconut with garlic, shallots and curry leaves till the coconut turns light golden brown in colour and curry leaves turn very crunchy.
Separately dry roast the tamarind, add the deseeded whole red chillies, salt . Switch off the flame Mix evenly. Now add the peanuts.
Mix all the dry roasted ingredients to the prawns.
Mix all the dry roasted ingredients to the prawns. Cool gradually.
With the help of mortar and pestle grind it in to a coarse powder.
Serve it with steamed rice and you may consume it every day with food.
Chef Tips:
Store it in an airtight container or else it will lose its flavor and will not have a long shelf life.
Broiling / dry roasting of each ingredient has to be done evenly, to extract maximum flavors.
Do not over roast, as it will impart bitter flavor.
You may use a mixer to fasten up the process for grinding the podi , but using a mortar and pestle gives an authentic and a very different flavor to the podi though it is time-consuming.