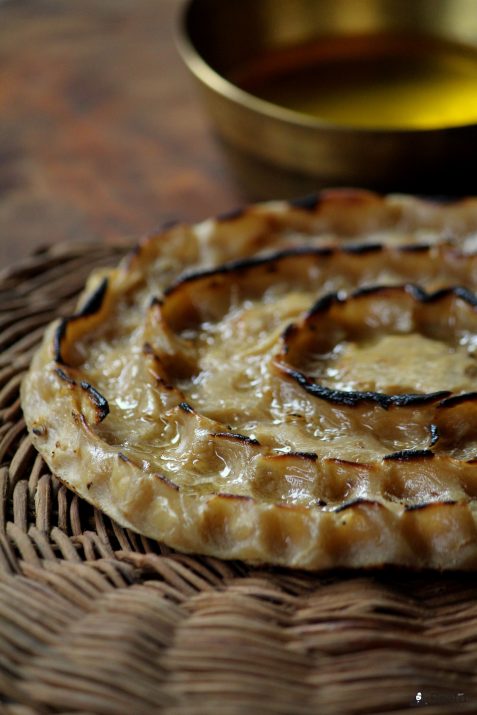 In Marwari Khoba means Cavity or Depression. This artistic and unique crisp thick flat bread is made with coarsely ground whole wheat flour, loads of desi ghee and salt to taste. It  is usually cooked on a tawa placed on an Angithi / Chulha , may also be baked on an iron griddle on a medium flame and then the impressions are made by pinching them on one side of the roti which is 1/4th cooked… then cooked on live flame…. Smeared with desi ghee …… Goes best with vegetarian as well as non-vegetarian delicacies. This roti is travel-friendly also known as travel buddy and has a long shelf life.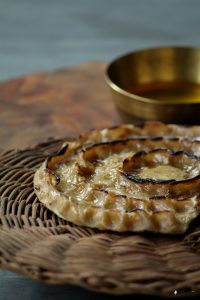 Preparation Time: 20 minutes
Cooking Time: 25 minutes
Serves: 4
Ingredients and Quantity:
Whole Wheat Flour, coarsely ground- 1 cup
Desi Ghee- 4 tsp.
Salt- to taste
Water- as required
For Drizzling / smearing:
Desi Ghee- 1 tbsp.
Method:
In a large mixing bowl, add flour, salt and water,
Mix together with your fingers to form crumbs.
Add water and prepare stiff dough.
Cover and keep the dough aside for 15 minutes.
Prepare 4 equal and big balls from the dough and roll each to make a thick round roti of ½ inch thickness.
Place a rolled roti on a medium hot griddle (tawa); prepare gashes with the help of a knife.
After 30 seconds flip the roti.
Bake on the other side also for 30 seconds
Do not pinch the side of roti with gashes. Start pinching the roti on its top making cavities / depression in a circular motion.
Gently flip the pinched side of the roti and bake it till light brown.
Now remove it from the tawa and place it on the direct flame, ensuring that it is evenly cooked. Smear / drizzle desi ghee and relish this bread with vegetarian as well as non-vegetarian delicacies.
Chef Tips:
1.You may add powdered fennel seeds / crushed ajwain or  jeera seeds if desired while kneading the dough.
2. You may relish it sprinkled with powdered jaggery accompanied with Aate Ki Kheer.