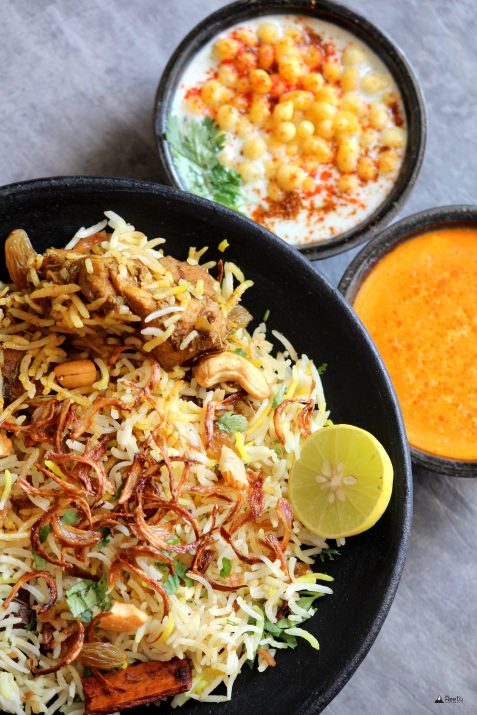 This is Kacchi Style of Biryani, where the chicken used for layering is uncooked and is placed at the bottom of the handi.
Takes much longer to be prepared than a Pakki biryani, where the chicken is cooked before it is layered on the rice.
Delicious, Fragrant, flavourful and mesmerizing biryani prepared on dum, with the top quality basmati / fragrant rice and chicken marinated in yogurt and spices…….garnished with crispy and crunchy Golden brown onion.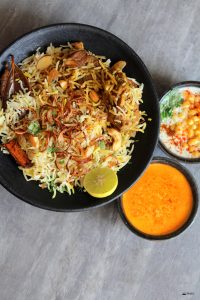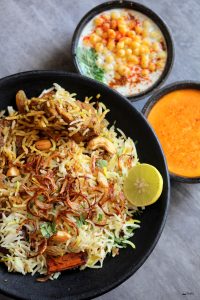 Cuisine: Hyderabadi
Course- Rice
Preparation Time: 30 minutes
Marination Time of Chicken: 02 Hours
Cooking the Biryani on Dum: 45 to 50 minutes
Serves: 04 pax.
Ingredients and Quantity:
Chicken – 500 gm.
For the Golden brown onions (Birista) divided into 3 parts:
Refined Oil – as required to deep fry
Onion thinly sliced – 03 nos. large
Salt to apply on sliced onion
For Marination:
Yogurt, whisked – 200 gm.
Kashmiri red chili powder- ¼ th tbsp.
Turmeric- ¼ th tsp.
Coriander powder- 01 tsp.
Shahi jeera – 01 tsp
Ginger paste- 01 tbsp.
Garlic paste- 01 tbsp.
Crushed golden brown onion- 01 part.
Powdered 1 inch cinnamon, 4 green cardamoms, 4 cloves
Bay leaf – 01 no.
Garam masala powder- 1/4th tbsp..
Freshly ground black peppercorn- ½ tsp.
Coriander leaves, finely chopped-01 tbsp.
Mint Leaves , finely chopped- 01 tbsp.
Green chillies, chopped- 02 nos.
Lemon juice- ½ tbsp.
Salt- to taste
For cooking the rice:
Long grained Basmati rice- 500 gm.
Lemon Juice- 1/4th tbsp.
Black cumin (shahi jeera)- ¾ th tsp.
Star anise-02 nos.
Water- 04 times the quantity of rice
Salt -to taste
Whole spices:
Muslin cloth for preparing Bouquet garni of the whole spices- 1/4th metre
Cinnamon stick- 1 inch
Green cardamoms- 02 nos.
Black cardamom- 01 no.
Mace- 01 strand
Cloves- 04 nos.
Bay leaf- 01 no
Bay leaves – 08 nos. for placing at the bottom of the Handi.
For the layering:
Hot Pure Ghee for pouring over layers of biryani- 03 tbsp.
Hot milk to steep / soak the saffron strands- 20 ml
Saffron strands- ½ gm.
Mint leaves, finely chopped- 02 tbsp.
Coriander leaves chopped very finely-02 tbsp.
Green chilies slit- 02 nos.
(Screw Pine Water) Kewra water- 15 ml
Raisins, fried– 30 gm
Cashew nuts, fried- 30 gm.
Cardamom powder- ½ tsp.
For sealing the handi:
01 cup of kneaded dough
For the Garnish:
Golden brown onions (Birista)- 02 tbsp.
Method:

Thinly slice the onions , apply salt , keep aside for 10 minutes, squeeze out the water completely and deep fry them in oil till golden brown in colour and crisp. Set these aside on a kitchen absorbent paper.
Marinate the chicken with the ingredients mentioned under marination. Keep it covered for 02 hours.
For Cooking the Rice and Layering the biryani:
Clean, wash and soak rice for 30 minutes
Steep saffron strands in hot milk to extract colour and flavour from it.
Prepare a bouquet garni of the mentioned Whole spices in a muslin cloth. Tie it like a small potli.
Place the Bay leaves on the bottom of an empty handi. Now place the marinated chicken and ensure that you spread the marinated chicken evenly.
Heat 04 times of water in deep bottomed pan. Add shahi jeera, star anise, bouquet garni , lemon juice and salt to taste Water when tasted should taste like your tears. Bring it to good boil.
Add rice, cook until rice is half done , take out half of the half cooked rice using big perforated spoons and immediately spread it over the marinated chicken evenly in the handi. Sprinkle 1/4th cup of hot rice water on this rice layer.
Sprinkle half of the coriander leaves, mint leaves, half of the brown onions, a little saffron steeped in milk, melted hot ghee, fried raisins, cashew nuts and cardamom powder over it
Allow remaining half rice to cook until al dente (Just done).
As soon as rice is al dente (Just done) i.e. 70 % cooked, immediately strain and add the remaining rice making it top most layer.
Ensure that you take out bouquet garni and discard it
Sprinkle remaining, coriander, leaves, mint leaves, golden brown onions, saffron steeped in milk, kewda essence and melted hot ghee.
Cover with a tight fitting lid and seal it with the kneaded dough.
Keep it on a high flame for 15 minutes.
Place hot griddle underneath the handi and keep it on "Dum' exactly for another 20 minutes.
After 20 minutes, switch off the heat and leave it as it is another 10 to 15 minutes.
Open the lid carefully as there is hot steam in it.
Serve the Biryani very hot garnished with sliced golden brown onions with your favourite Raita. I suggest eating it with the mesmerizing Boondi and Khajur Raita.
Want your Biryani to be Perfect ???????
Chef Tips
Marination is done for 03 reasons, it imparts flavour, tenderness of chicken and also acts as a preservative.
Place a few bay leaves at the bottom of the dum vessel so that the biryani does not stick to the bottom, it also imparts a beautiful flavor to the rice. Ensure that you remove the 08 bay leaves before serving the biryani.
Lemon juice is added while cooking the rice, as it not only keeps rice grains from sticking together, also it will help keep your ricebeautifully white, which makes the appearance of biryani simply perfect to eat.
Use excellent quality of ingredients in the biryani
The rice that is used to prepare the biryani should be of the top-most quality and must have a fantastic fragrance.
Soak the Rice for 30 minutes.
Do not overcook the rice.
Boil / Cook the rice with whole spices preferably a bouquet garni of the whole spices, so that it is easier to remove at a later stage.
The quantity of Yogurt used in the marination should not be more as it tends to make the biryani mushy.
The Cooking utensil used for cooking rice should be big enough so that it gives enough room to the rice to cook.
Add saffron steeped in milk to impart both the flavour and the vibrant colour to the biryani.
The golden brown onions (Birista) should be crunchy and crisp, therefore slice onion very thinly, apply salt and set aside for 10 minutes, squeeze out the moisture / water from it and deep fry.
Place the Birista on an absorbent paper to remove excess of oil.
Never refrigerate left over Birista, instead transfer it into a ziplock bag and freeze it before you use it for preparing a dish next time.
The dum utensil is sealed with whole-wheat flour dough, so that the flavour and aroma does not escape from the biryani.
Last but not the least prepare home-made Biryani masala and store it in an airtight container to save time while preparing the Biryani.