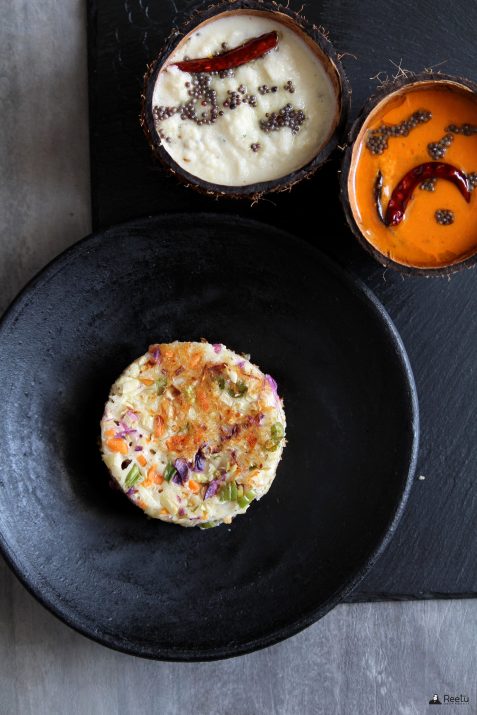 This delicious uttapam prepared with oats and loads of fresh vegetables will steal the thunder out of your meal!!!!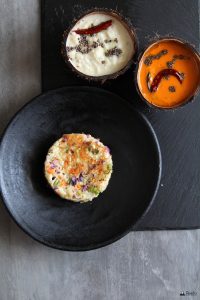 Preparation Time: 20 minutes
Cooking Time: 15 minutes
Serves: 10 to 12
Ingredients and Quantity:
Oats, quick cooking oats or Rolled oats- 1 cup
Semolina- ½ cup
Asafoetida- a pinch
Yogurt, whisked- 1 cup
Cumin seeds-1 tsp
Red chilli powder- 1/4th tsp.
Soda Bicarbonate: a pinch
Water- as required.
Onion, finely chopped- 1 no.
Tomatoes, deseeded and chopped- 01 no.
Red Cabbage, chopped- ½ tbsp..
Red / Yellow / Green Capsicum, finely chopped- 01 no. medium sized
Carrots, peeled and finely chopped- ½ tbsp.
French beans, chopped- ½ tbsp.
Ginger, finely chopped- 3/4th tsp
Green chilles, finely chopped- ½ tsp
Salt- to taste
Extra Virgin Olive oil- 01 tbsp.
For the garnish:
Coriander leaves, fresh, chopped- ½ tbsp.
Method:
Grind oats and semolina. Add asafetida.
Now add Yogurt, cumin seeds, red chilli powder, soda bi carb, ginger and water, as required to make a thick batter.
Keep aside for 10 minutes. Add Salt to taste.
Mix well.
In a glass bowl combine the chopped onion, tomatoes, red cabbage, capsicum, carrots, French beans, green chillies and very less salt , as we have already added salt to the batter.
Heat a non-spick pan apply a little oil, spread a ladleful of batter.
Now take a spoonful or more of mixed veggies and spread over the batter.
Ensure that it sticks to the batter.
Drizzle few drops of oil in the centre of the uttapam as well as on the edges.
When it is golden brown, flip it to the other side to cook and till the vegetables are lightly caramelized.
Serve hot garnished with chopped coriander leaves and accompanied with Coconut or Tomato chutney.
Chef Tips:
You may sprinkle lemon juice if desired.