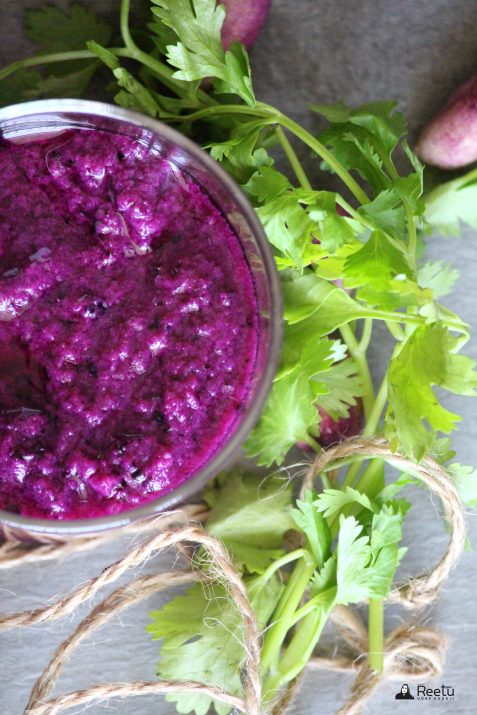 This Gorgeous Purple Beauty will steal the thunder out of your meal!!!!…..
This tongue tantalizing Dip / Chutney  is prepared with Indian Blackberry  (Jamun), honey, ginger , green chilli and seasonings.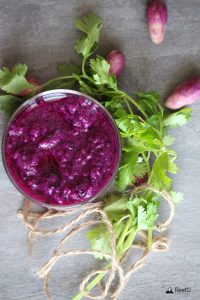 Preparation Time: 10 minutes
Refrigerating Time: 10 minutes
Serves: 06
Ingredients and Quantity:
Indian Blackberry (Jamun) ripe, deseeded – 03 cups
Organic honey- 11/2  tsp.
Ginger- 1 inch piece
Green chilli. Finely chopped- 01 no. small
Water- 1/4th  tbsp. if required
Salt- to taste
White pepper- 1/4th tsp
For the Garnish:
Cilantro, fresh- few sprigs
Method:
In a blender, add the Indian Blackberry, honey, ginger and green chilli and blend / grind to a coarse paste. Add the water, if required.
Add salt and pepper. Blend again.
Refrigerate for 10 minutes.
Serve chilled garnished with fresh cilantro.
Goes best with hot fritters during Monsoons. 
Chef Tips:
You may sprinkle a little chaat masala powder, if desired.
You may add fresh fruit juices of your choice instead of water but ensure that it does not overpower the flavour of Jamun.
Ensure that you do not add too much of juice / water, the consistency of the chutney should be thick and syrupy.