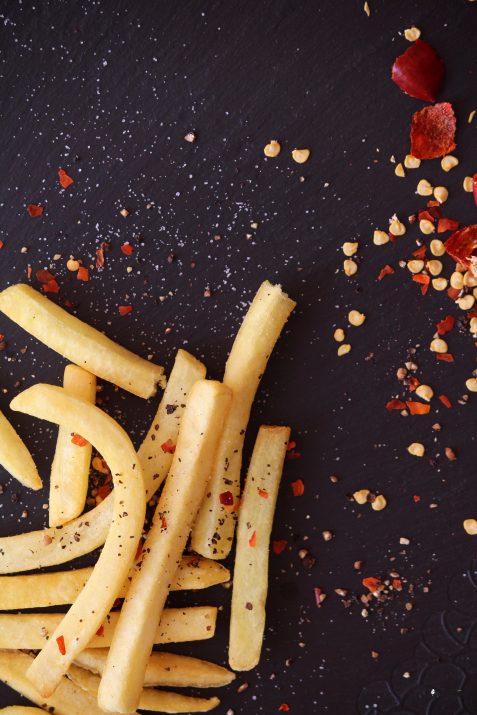 Crisp fries prepared with potatoes, deep fried till golden , sprinkled with salt, pepper and chilli flakes.
Preparation Time-40 to 45 minutes
Freezing Time– 4 to 5 Hours
Cooking Time-10 minutes
Serves: 2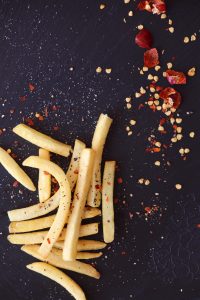 Ingredients and Quantity:
Potatoes- 02 large
Refined oil-as required to deep fry
For Sprinkling:
Salt-to taste
Black peppercorn, freshly ground- 1/4th tsp.
Chilli flakes- ½ tsp.
For removing / absorbing excess of oil:
Kitchen absorbent paper- 04 nos.
Other Ingredients: If French fries are not consumed immediately.
Zip lock freezer bags- 01 medium sized
Method:
Heat oil in a non-stick deep frying pan.
Peel and cut potatoes into slices of even thickness i.e. ½ inch.
Trim the ends / edges and cut the potatoes in to fingers of even width and 2 ½ to 3 inches long
Place the potatoes into ice-cold water for 20 minutes to help getting rid of excess of starch from the potatoes and makes the fries crispier, also water helps in avoiding enzymatic browning in potatoes.
Rest the fries in hot water for 10 minutes, so that it cooks slightly.
Drain the water and ensure that the water is completely drained off.
Cool them at room temperature and transfer them into a zip lock freezer bag and freeze for 4 to 5 hours.
Just before serving, heat oil in a non-stick deep frying pan and slide the frozen fries and deep fry for 2 to 3 minutes.
Drain on an absorbent paper. Cool it completely.
For the Second fry, heat oil and deep fry till the fries are golden and crisp.
Place on an absorbent paper.
Serve hot with the dips of your choice, sprinkled with salt, pepper and chilli flakes.
Chef Tips:
If the peel / skin of the Potatoes is thin then you may just wash the potatoes and let the peel / skin be on.
You may sprinkle cayenne pepper and smoked paprika, if desired.