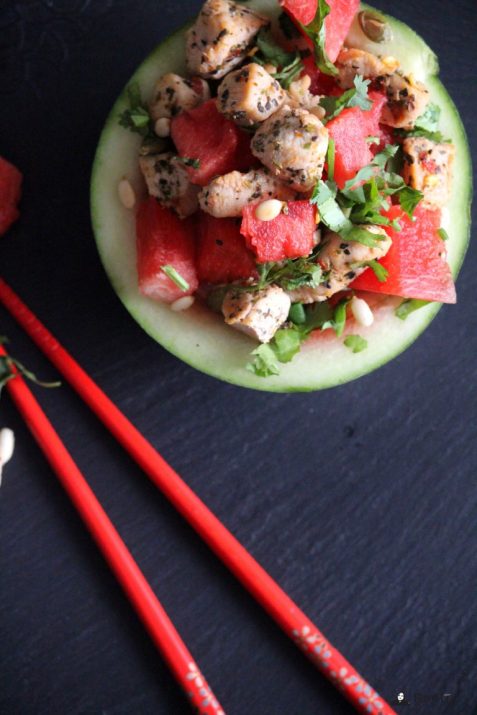 Skip Your meals… Yes you heard me right…..
This refreshing salad is a complete meal. I bet it will steal the thunder out of your meal!!!! 
Loaded with nutrition, it is prepared with fresh watermelon, succulent herbed chicken, cilantro, lightly toasted pepitas, musk melon and coarsely ground almonds drizzled with honey and lemon juice dressing.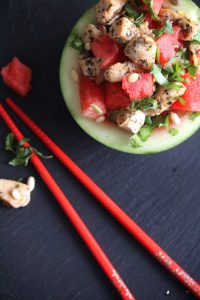 Preparation Time: 05 minutes
Cooking Time: 10 minutes
Serves: 04
Ingredients and Quantity
Watermelon, cubed without seeds, chilled- 02 cups
Fresh Cilantro, chopped- 1/4th bunch, small.
Chicken breasts, cut into cubes- 450 gm.
Extra Virgin Olive oil- 1/4th tbsp.
Mixed Herbs, dried- 02 tsp
Red Chilli flakes- 01 tsp.
Black peppercorns, freshly ground- 1/4th tsp
Salt- to taste
Roasted Almonds, coarsely ground-1/4th tbsp.
Pepitas, lightly toasted- 1/4th tbsp.
Musk melon seeds, lightly toasted- 1/4th tbsp.
For the Salad Dressing:
Olive oil- 01 tbsp.
Lemon Juice-1/2 tbsp.
Honey organic- 1/4th tbsp.
Salt- to taste
Method:
In a nonstick skillet heat olive oil, add chicken cubes with the herbs , crushed black peppercorns and chilli flakes and cook until tender and browned on the outside. Season it.
In a salad bowl add cubed water melon, herbed and cooked chicken cubes, chopped cilantro, almonds, pepitas and musk melon seeds.
In a small bowl mix all the ingredients mentioned for dressing and set aside.
Just before service add the salad dressing.
Gently toss the salad to mix and serve.
Chef Tips:
Add the dressing to the salad just before service, in order to prevent it from becoming soggy.
You may add Vinegar instead of lemon juice.