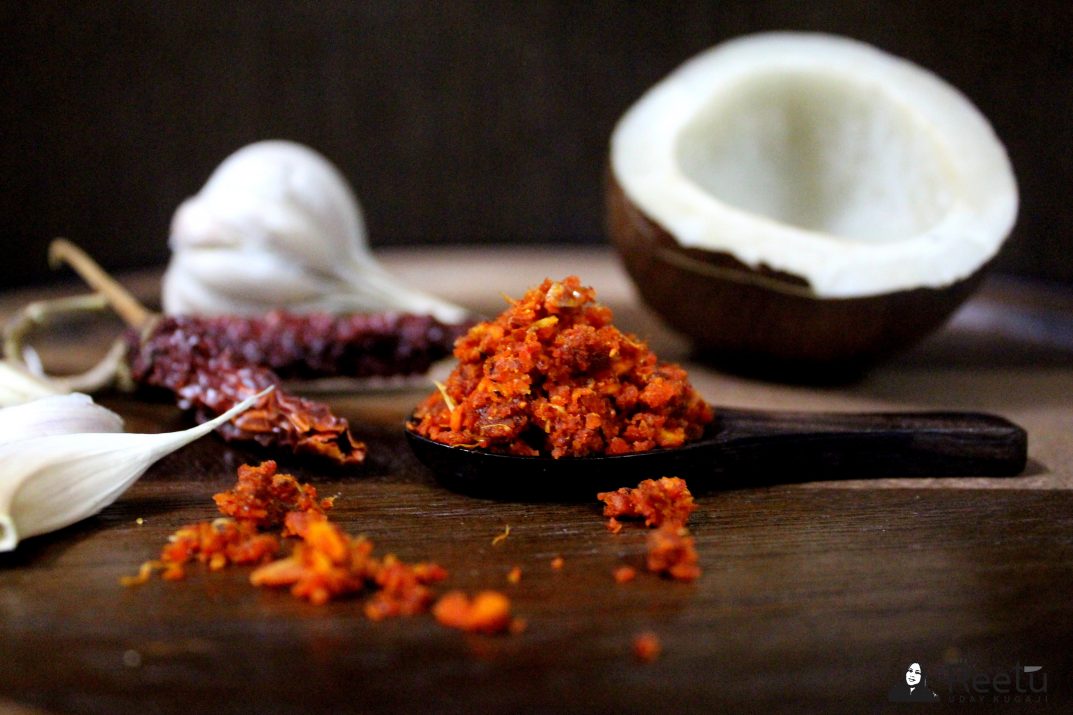 A combination of pungent garlic and dried coconut, spiced up with a generous dose of red chilli powder.
Preparation Time: 10 mins
Cooking Time: 02 mins
Serves: 08.
Cuisine: Maharashtrian
Course: Chutneys/ Accompaniments
Ingredients and Quantity:
Garlic, roughly chopped- 125 gm.
Oil- 02 tsp.
Dried Coconut, grated- 125 gm.
Red chilli Powder – 30 gm. or as required.
Salt – To taste
Method:
Heat the oil in a heavy bottomed non-stick pan, add the garlic and sauté on a medium flame for 02 minute.
Switch off the flame, add the dried grated coconut and mix well.
Transfer the mixture into a plate and allow it to cool completely. Once cooled, grind into a coarse powder along with the red chilli powder and salt.
Store in an air-tight container. Use as required.
Chef Tips:
You may use broiled whole red chillies of a spicer variety- 04 nos. with seeds if you want the chutney to be very spicy or deseeded if you want the chutney to be lesser spicy. Do not forget to discard the stem / stalk of the whole red chilli.
You may use a combination of both broiled whole red chillies and Red chilli powder.
You may add broiled, skinned and powdered peanuts- 01 tbsp. to the chutney.
To further enhance the flavor you may add broiled and powdered white sesame seeds- ½ tsp.
Shelf life of this chutney without adding peanuts and sesame seeds is 15 days as the peanuts and sesame seeds have high oil content and turn rancid .