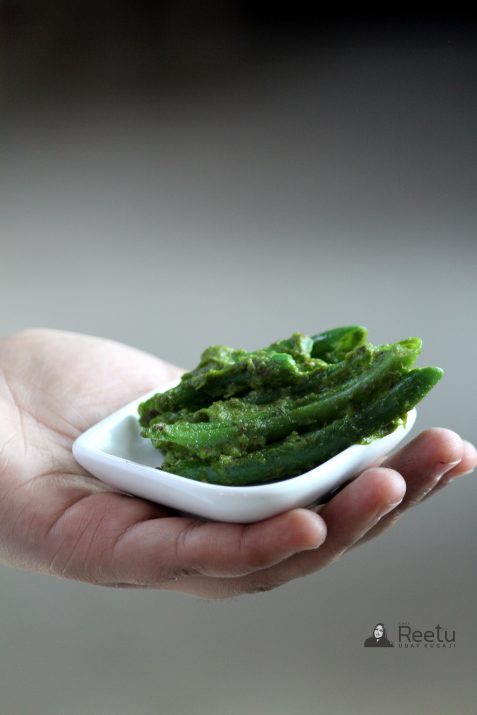 Green beans tossed in smooth and creamy pesto prepared with fresh basil, Parmesan and pine nuts.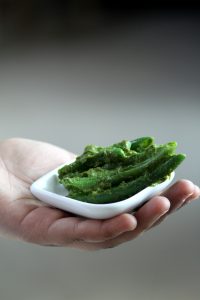 Preparation Time: 10 minutes
Cooking time: 05 to 08 minutes minutes
Serves- 4
Ingredients and Quantity:
For Pesto:
Basil leaves, fresh- 1 ½  cups
Parmesan cheese, grated- 1/3 rd cup
Vegetable stock- 1/4th cup
Pine nuts- 01 tbsp.
Extra Virgin olive oil- ½ tbsp.
Salt- to taste
Black pepper, freshly ground- 1/4th tsp.
Garlic clove, minced- 02 nos.
Other Ingredients:
Green beans, – 350 gm.
Method:
String, wash and cut beans into 1 ½ inch pieces.
Combine all ingredients of pesto in a food processor; process until it is very smooth.
Bring stock to a boil in a large saucepan. Add green beans, and cook for 4-5 minutes or until tender. Drain the beans and place in a large bowl of cold water.
Drain and keep aside
In a heavy bottomed pan add olive oil,  add pesto , a little vegetable stock and beans and toss over fierce heat to coat, ensuring that it does not burn or turn brown.
Serve hot.
Chef Tips:
You may sprinkle lemon juice over the prepared green beans.
You may use a combination of lightly toasted almonds and pine nuts for the pesto.