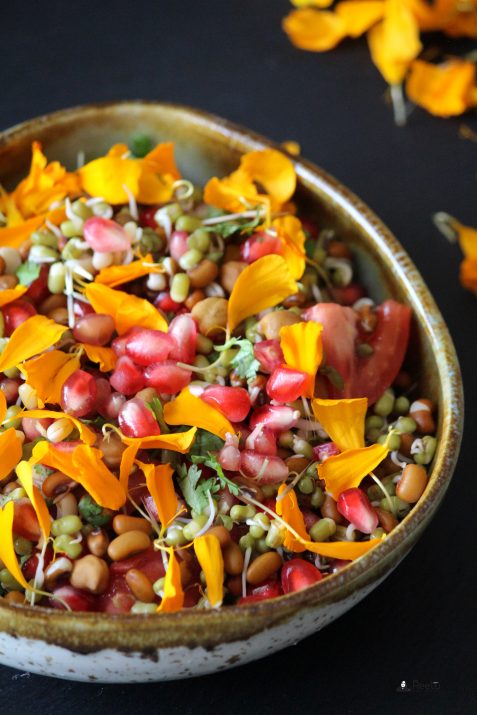 Get Vibrant this monsoon with the mesmerizing colours and flavours of Marigold and Mixed Sprouts Salad. I bet you gonna love it…. Nutrition Overloaded!!!!! I suggest eat with your eyes first and then consume this flavourful salad prepared with edible Marigold petals, mixed sprouts, pomegranate pearls , drizzled with the zesty orange juice and honey dressing.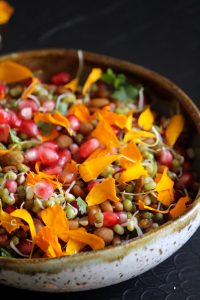 Preparation Time- 10 minutes
Cooking Time- 05 minutes
Serves- 4
Ingredients and quantity:
Fresh Marigold Petals, edible – ½ cup / or more as desired
Green Gram, Sprouted- 1/4th cup
Turkish Gram, sprouted- 1/4th cup
Black Chickpeas , sprouted- 1/4th cup
Pomegranate Pearls- 1/4th cup
Tomatoes quartered- 1/4th cup
Green chillies, deseeded and finely chopped- 02 nos.
Fresh Cilantro , finely chopped- 1/4th bunch ,small
For the Salad Dressing:
Orange juice- 02 tbsp.
Lemon Juice- 1/2 tbsp.
Organic Honey- 02 tsp.
Olive oil- ½  tbsp.
Chaat masala- 1/4th tsp.
White Pepper- to taste
Salt- to taste
Method:
Wash the marigold petals thoroughly, pat dry with a paper towel and set aside.
In a deep pan add water, let it boil, wash the sprouts and blanch them for 03 to 04 minutes.
Wash them under cold water. Place the drained sprouts on a fine mesh to remove excess of water.
In a glass bowl, mix all the ingredients mentioned from Sprouted Moong to fresh cilantro
Place in the refrigerator to chill in an airtight container.
In a small bowl mix all the ingredients mentioned for the dressing.
Just before service, add the dressing to the salad.
Serve chilled.
Chef Tips:
Add the dressing to the salad just before service, in order to prevent it from becoming soggy.
You may add cubed / sliced Yellow or Red pimentos, if desired.