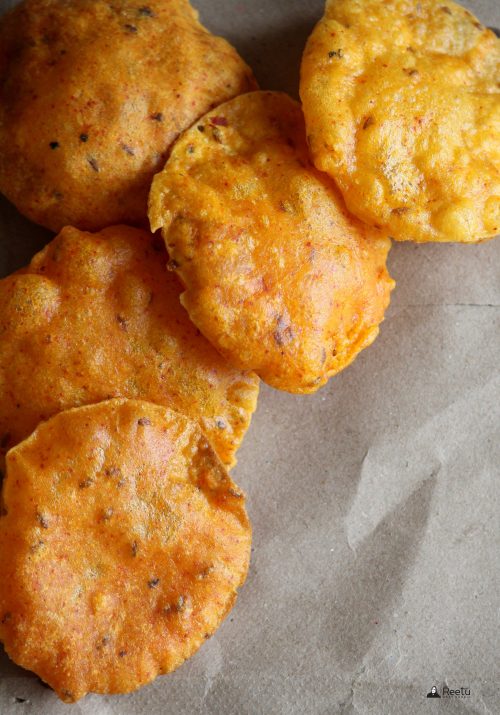 A snack from Kerala goes best with Tea especially during the Monsoons.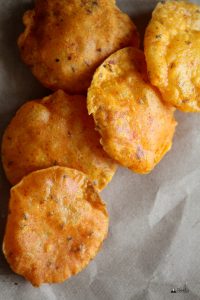 Preparation Time: 15 minutes
Cooking Time: 20 minutes
Makes: 08
Ingredients and Quantity:
Kerala Pappadam- 08 nos.
Fine Rice Flour- ½ cup
Red chilli powder- ½ tsp. / or more if desired
Turmeric powder- a pinch
Sesame seeds, black- 3/4th tsp.
Cumin seeds- ½ tsp.
Asafoetida- a pinch
Salt – to taste (Remember the Kerala Pappadams already contain Salt in it.
Water- 90 ml. / as required
Coconut oil- 02 cups / as required for deep frying
Method:
Combine all the ingredients in a glass bowl except the Kerala Pappadam and Coconut oil. Blend thoroughly to make a smooth batter of pouring consistency.
Heat coconut oil in a deep non-stick pan.
Dip the pappad in the batter, one pappad at a time, press it onto the batter surface and turn to the other side. Ensure that both sides are evenly coated. Do not put the pappada in the batter for long time as it will break and becomes mushy.
Place the pappad in hot oil. Fry on low to medium heat till the pappada vada turns crisp.
Turn the other side; deep fry till golden and crisp.
Place on Kitchen absorbent papers to remove excess of oil / so that excess of oil can be absorbed by the absorbent paper.
Repeat the same process to make all pappada vadas and serve very hot with tea.
Chef Tips:
You may store the leftover papadda vadas in airtight containers to be consumed later.
To re-heat the papada vada, microwave for 15 seconds.
To make it crispier, Sun-dry the pappadam /papads for about 20 minutes before the actual preparation begins.