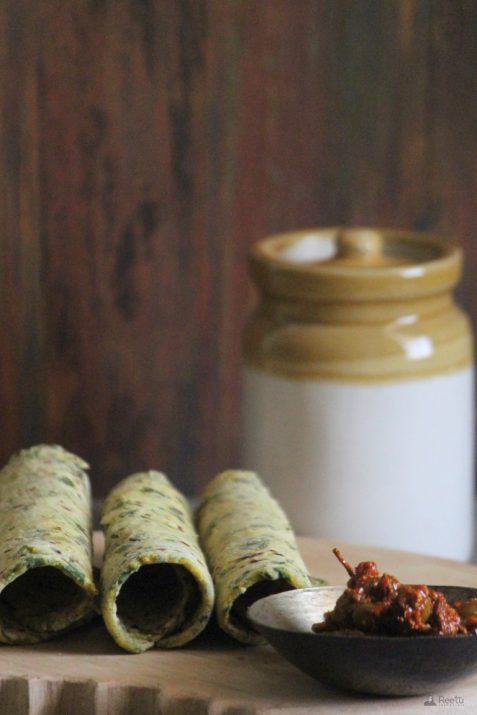 Indian flat bread prepared with whole wheat flour, nutritious fenugreek and aromatic and flavorful dill leaves with Indian spice powders, baked on a hot griddle till crisp and golden in color with clarified butter.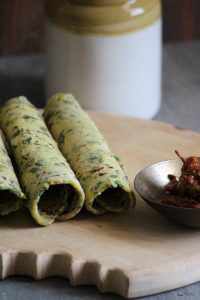 Preparation Time: 20 minutes
Cooking Time: 10 minutes
Serves: 4
 Ingredients and Quantity:
Whole Wheat Flour- 1 1/4 cups
Fenugreek Leaves, finely chopped- 1 bunch (small)
Dill Leaves, chopped- 1/4th bunch
Clarified butter- ½ tbsp.
Ginger, grated -1 inch piece
Garlic, grated- 2 cloves
Green chillies, finely chopped – 2 nos.
Carom seeds, lightly roasted – 1/4 teaspoon
Cumin seeds, lightly roasted and coarsely ground- 1/4 teaspoon
Red chilli powder- ½ tsp.
Turmeric Powder- 1/4th tsp.
Dry mango powder- ½ tsp.
Water- as required to knead the dough
Muslin cloth, moist – 1/4th metre to cover the dough
Whole Wheat flour for dusting- as required
 Method:
Heat a little clarified butter in a non-stick pan add ginger, garlic and green chillies, sauté for few seconds.
Add fenugreek leaves, red chilli powder, cumin powder, turmeric powder and salt. Mix and cook till all the moisture dries up. Transfer into a glass bowl. Let it cool completely.
Add chopped dill leaves, carom seeds and mango powder and mix well. Add whole wheat flour to the prepared mixture and knead into a soft dough with the help of water. Let the rest dough for 8 to 10 minutes covered with a moist muslin cloth.
Divide the dough into small portions and roll into balls. Heat a griddle. Roll a dough ball in flour and roll it into a round roti, a little thicker than the regular rotis.
Place it on the hot griddle and bake. Turn it over and apply some ghee.
Turn over once again and apply some more ghee and cook till both sides are golden. Serve hot with plain curds, raitas or pickle of your choice.
 Chef Tips:
The dough is kept for resting for 8 to 10 minutes, so that the flavors of fenugreek leaves, dill leaves and Indian spice powders can blend properly with the whole wheat flour.
The dough is covered with a moist muslin cloth so that the dough does not dry up.
You may knead the dough with beaten sour curds instead of water, to further enhance its flavors.