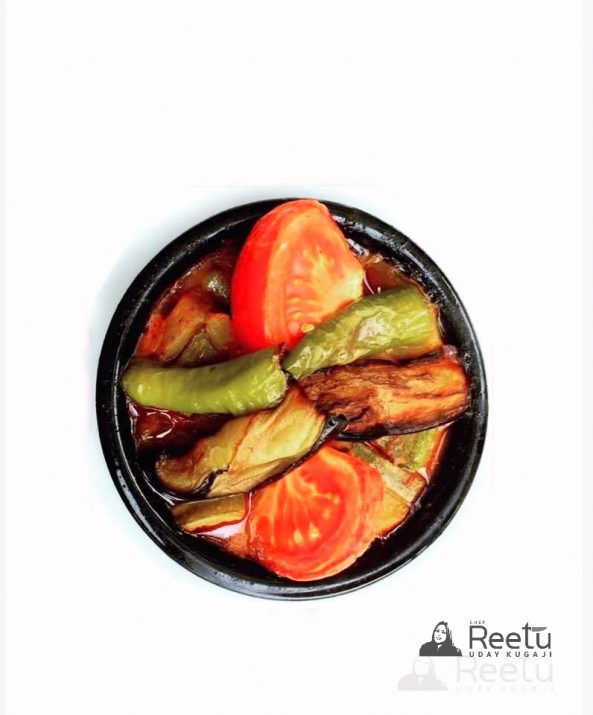 Versatile, scrumptious and easy to make, Caponata is probably Sicily's best-known dish. You may serve it either cold or warm as a side dish or as a main course with bread.
Preparation Time: 25 minutes
Baking Time- 15 minutes.
Cooking Time: 25 minutes
Servings: 04.
Ingredients and Quantity:
Aubergine, large, thickly sliced- 01 no.
Courgette, thickly sliced- 01 no.
Zucchini, green, thickly sliced-01 no
Red bell pepper, deseeded and sliced- 01 no
Yellow bell pepper, deseeded and sliced – 01 no.
Green bell pepper, deseeded and sliced -01 no.
Extra Virgin Olive Oil- 03 tbsp. + 01 tbsp.
Red onion, cut into wedges, large- 01 no.
Red chilli flakes- 01 tsp.
Garlic cloves, sliced / minced- 04 nos.
Tomatoes-, thickly sliced- 250 gm.
Tomato puree- 01 tbsp.
Vegetable stock- 250 ml / as required
Wine vinegar / herb vinegar- ¾ th tbsp.
Castor sugar- ½ tbsp.
Capers- ¾ th tbsp.
Celery stem, chopped- 01 no.
Raisins- ¾ th tbsp.
Pine nuts- ½ tbsp.
Almonds, lightly toasted and slivered- ½ tbsp.
Black olives, chopped- 01 tbsp. (Optional)
Salt- to taste
Freshly ground black pepper- to taste
Method:
Preheat the Oven to 450 ˚F
In a glass bowl toss the Aubergine, Courgette and peppers with the extra virgin olive oil.
Add little salt and freshly ground pepper
Spread the vegetables on to a baking tin / sheet/ tray and bake for 15 minutes or until it has attained a brown colour. Turn over the vegetables, for even browning. Remove and Keep aside.
In a heavy bottomed pan heat olive oil add onions, chilli flakes and garlic. Sauté for 5 minutes.
Add the tomatoes slices, tomato puree and let it simmer gently so that the sauce thickens. Pour in about 250ml vegetable stock.
Add vinegar and sugar.
Now add the roasted vegetables, capers, celery stem, raisins, pine nuts, almonds and black olives (Optional)
Simmer for 15 minutes.
Adjust seasonings, if required.
Serve piping hot.
Goes best with Ciabatta.
Chef Tips:
1. Keep the aubergine and courgette in water, in order to prevent it from turning brown i.e. enzymatic browning.
2. Do not over roast the vegetables, as they may burn and impart burnt flavor to the stew.
3.You may add green olives, if desired.
4. Do not stir the vegetables vigorously or the vegetables will mash.