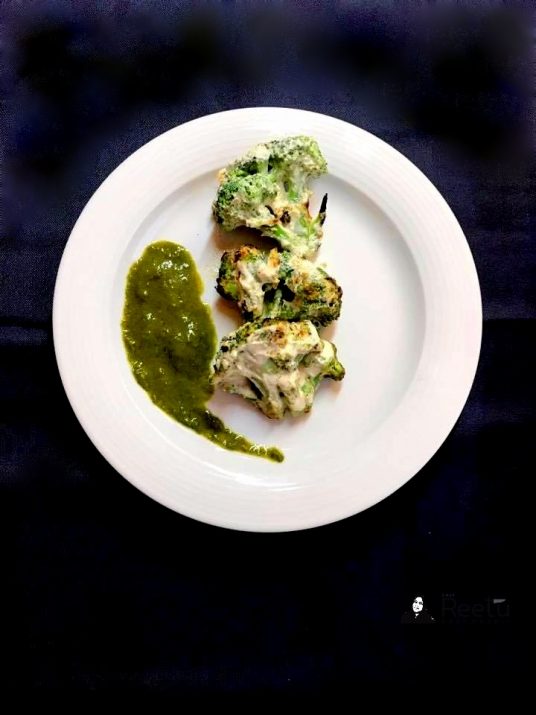 Broccoli florets marinated in fresh cream, hung curds ,cheese flavoured with mace , ginger and garlic and baked to perfection.
Preparation Time: 2 ½ hours including the marination time
Baking Time: 15 minutes
Serves:4
Ingredients and Quantity:
Broccoli , cut into florets-750 gm.
Cheese processed, grated- ½ cup
Cheddar cheese, grated- ½ cup
Hung curd- 01 cup
Cream, fresh-1/4 th cup
White pepper powder- 01 tsp.
Mace powder- a pinch
Ginger paste- ½ tbsp.
Garlic paste- ½ tbsp.
Green chilli paste- 01 tsp.
Salt – to taste
Method:
Bring water to a boil. Add florets of broccoli.
Blanch and then place in cold water to retain the beautiful green colour and stop the cooking process.
In a glass bowl mix both the grated cheese add the ginger garlic and green chilli paste. Add whisked hung curd.
Add white pepper powder, mace powder, salt and fresh cream.
Mix well till smooth.
Marinate the blanched broccoli for 02 hours.
Preheat the oven to 180 degrees C.
Place the marinated broccoli on a greased baking sheet / tray.
Bake till 12 to 15 minutes.
Serve hot with mint chutney.
Chef Tip:
You may sprinkle lemon juice and chat masala over the prepared broccoli and serve.