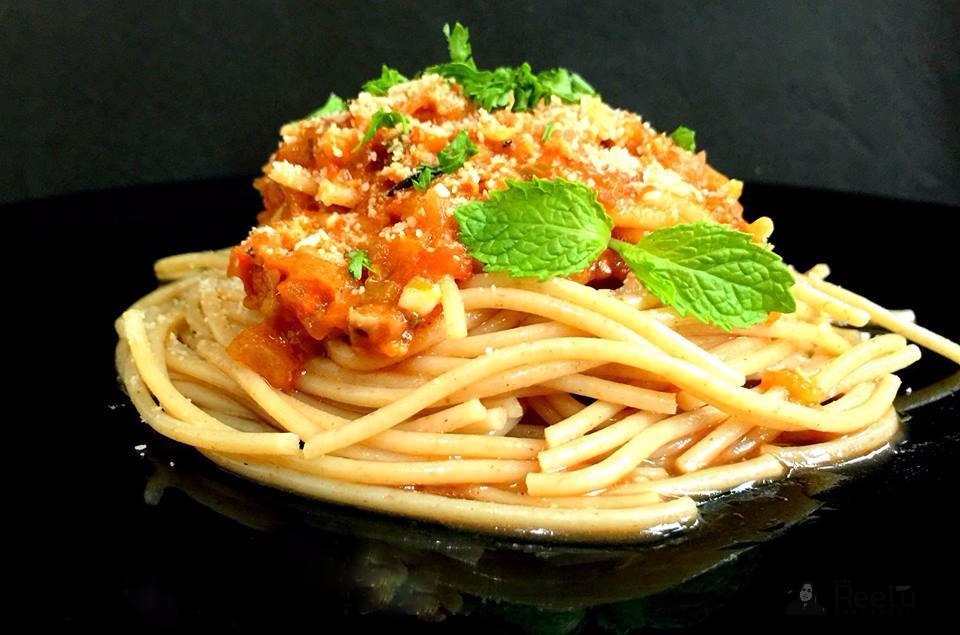 Spaghetti with a dose of meat , with the super delicious and quick and easy to make Bolognese Sauce
Preparation Time: 30 minutes
Cooking Time: 45 minutes
Serves: 4
Ingredients and Quantity:
Spaghetti-250 gm.
Minced Mutton-150 gm.
Carrots-50 gm.
Onions-50 gm.
Garlic-20 gm.
Tomato Puree-50 gm.
Tomatoes-250 gm.
Thyme-3 gm.
Oregano-3 gm.
Salt -To Taste / 05 gm.
Pepper-To Taste / 02 gm.
Oil -30 ml.
Celery-2 gm.
For the Garnish
Mint leaves, fresh-08 nos.
Parmesan cheese-04 tsp.
METHOD:
Heat oil sauté finely chopped onions and garlic.
Add carrots celery add minced meat. Cook till done.
Stir fry for 5 min add chopped tomatoes, oregano
Add some stock .add tomato puree, salt pepper and keep mixture aside.
Separately cook spaghetti in boiling water arrange the spaghetti on the plate and top it with bolognaise sauce.
Garnish with Parmesan cheese and fresh mint leaves.
Chef Tips: You may add dry red wine and heavy cream to the sauce to enhance the flavor and to give the sauce a smooth appearance.