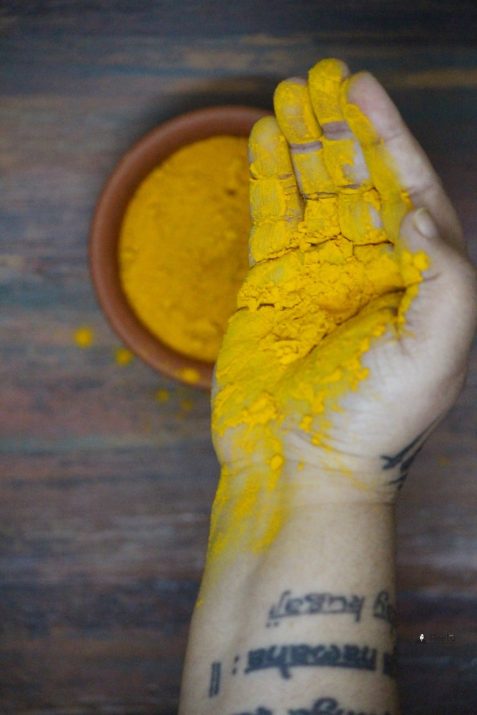 In Sanskrit it is known as Haridra, also has more 53 names.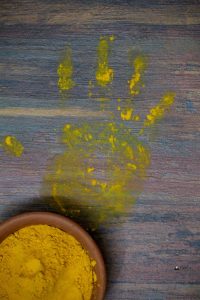 Turmeric has originated in the in Southern India. A wonder and Powerful spice indeed.
Erode, a city in the South Indian state of Tamil Nadu, is the world's largest producer of and the most significant trading center for this golden spice, also Erode is known as "Yellow City," "Turmeric City". Sangli, a city of Maharashtra, is second only to Erode in size, production and trading for turmeric.
Turmeric is not only used as a cosmetic, beauty aid but also as a spice and medicine.
It is an anti-oxidant and anti-inflammatory. It is used to aid digestion. Used as an antiseptic for burns, cuts and wounds.
Turmeric is widely used as an herbal medicine for Rheumatoid Arthritis, conjunctivitis, skin cancer, small pox, chicken pox, wound healing and urinary tract infections.
Used in many Indian traditions and ceremonies, it is considered pure especially in Prayers, Religious Rituals and marriage ceremonies.
Culinary uses of Turmeric , manufacturing food products such as canned beverages, dairy products, baked products, ice cream, yellow cakes, yogurt, sweets, cake icings, cereals, sauces, and gelatins. It is a substantial ingredient in most commercial curry powders. Turmeric has numerous uses in Asian cuisine. It is used both in savory and sweet dishes, and is widely used in Eastern specialties such as fresh turmeric pickle.  It is used as a preservative and as a margination in many dishes. It is a natural food coloring which imparts beautiful yellow colour and robust peppery flavor to the food dish in which it is used. Lost recipes of India include Haldi Ka Halwa.
Dadi Maa ke Gharelu Nuskhe which simply means Grandmothers quick Tips includes Golden milk that is Haldi Doodh, mix Turmeric with Mustard oil and Salt and apply, you will get relief from tooth ache, suffering from cold, mix Honey, Turmeric and Black Pepper and consume it.
Two recipes that are anti-oxidant and anti-inflammatory.
Golden Latte (Turmeric Milk)
This golden mystic health drink is a medicinal milk which is Ayurveda –inspired, contains turmeric and has anti-inflammatory and anti-oxidant properties. Cures cough, cold and helps reduce weight.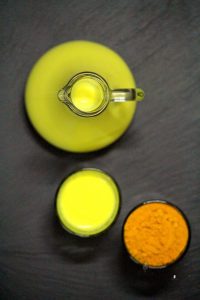 Preparation Time: 05 minutes
Cooking Time: 10 minutes
Serves: 4
Ingredients and Quantity:
Milk – 05 cups
Turmeric powder/ ground dried turmeric- 01 tsp.
White peppercorn, crushed- ¼ th tsp
Honey, organic-02 tsp. / as desired
Method:
In a heavy bottomed pan, heat milk on a medium flame.
Simmer for 10 minutes until it starts boiling and reducing.
Add turmeric powder, crushed white peppercorn stir it and simmer for another 01 minute.
Pour in the serving glass, add honey.
Serve it very hot.
 Chef Tips:
You may add a ½ tsp of clarified butter (Ghee) in order to cure cold.
You may add an inch of cinnamon stick while simmering the milk, but remember to remove it before serving.
If you are a ginger lover, add ground ginger, you definitely need to strain the milk then, before serving.
Coconut Ginger and Turmeric Soup
Soup for the Soul, is prepared with the goodness of Coconut milk, coconut cream, turmeric, flavored with ginger, seasoned with salt and freshly ground pepper drizzled with coconut oil.
Preparation Time: 05 minutes
Cooking Time: 10 to 15 minutes
Serves: 4
Ingredients and quantity:
Coconut Milk- 1 ½ cups
Coconut Cream- ½ cup
Ginger, finely sliced- 1 inch piece
Turmeric, ground/ fresh turmeric, sliced- 01 tsp / 6 cm.
Vegetable both- 04 cups
Salt –to taste
Black peppercorn, freshly ground-to taste
Coconut Oil- 02 tsp.
Method:
In a heavy bottomed non-stick pan add all the ingredients i.e. Coconut Milk,
Coconut Cream, Ginger, Turmeric and vegetable both.
Simmer for 10 minutes.
Add salt and pepper to taste.
Serve in soup bowls.
Heat the coconut oil and drizzle over the soup.
Sprinkle a little more pepper.
Serve very hot.
Chef Tips:
Do not boil the soup, only simmer to avoid the coconut milk from curdling.
Use a Heavy bottomed non-stick pan in order to avoid the soup from burning and sticking to the pan.