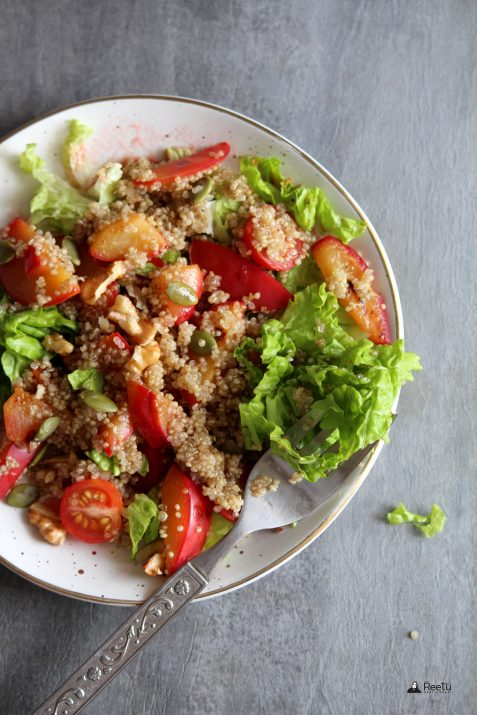 Delectable crisp and crunchy salad prepared with roasted juicy plums and quinoa, crisp lettuce, cherry tomatoes, lightly toasted walnuts and pepitas drizzled with fresh pomegranate juice and Honey dressing.
Preparation Time: 10 minutes
Roasting Time: 08 minutes
Cooking Time: 15 minutes
Refrigeration / Chilling Time: 15 minutes
Serves: 02
Ingredients and Quantity:
Indian Plum- 06 nos. big
Cinnamon powder- 1/4th tsp.
Organic Honey- ½ tsp.
Olive Oil- ½ tsp. + ½ tsp.
Water- 25 ml.
Quinoa, rinsed- 1/4th cup
Water-01 cup
Cherry tomatoes, cut into halves- 04 nos.
Lettuce- 1/4th bunch
Walnuts, broken and lightly toasted- 1/4th tbsp.
Pepitas, lightly toasted- 02 tsp.
For the Salad Dressing:
Pomegranate juice- 02 tbsp.
Lemon Juice- 1/2 tbsp.
Organic Honey- 02 tsp.
Olive oil- ½  tbsp.
Salt- to taste
White Pepper- to taste
Method:
Preheat the oven at 180 C.
Slice the plums into four, discard the stones.
Sprinkle cinnamon powder, honey, and 25 ml of water.
Roast them for 08 minutes, ensuring that it is evenly roasted on both the sides.
In a small saucepan on a low flame, add the quinoa and ½ tsp olive oil. sauté for a few seconds until the quinoa starts to pop. Add 1 cup of water and a pinch of salt to the saucepan and bring to a boil. Once boiling, reduce the heat to low, and cover. Simmer for 15 minutes, or until all of the water has evaporated and the quinoa is light and fluffy. Set to the side to cool.
In a salad bowl place the lettuce, you may chop it, add the roasted plums, quinoa, cherry tomatoes, broken walnuts, pepitas. Mix lightly.
Cover the bowl with cling wrap and chill in the refrigerator for 15 minutes.
In a small bowl mix thoroughly, all the ingredients mentioned for salad dressing and keep aside.
Remove the salad from the refrigerator, just before service add the salad dressing toss it lightly and serve. 
Chef Tips:
Add the dressing to the salad just before service, in order to prevent it from becoming soggy.
Wash the lettuce thoroughly and place in Ice cold water to maintain its crispness.
You may add cubed / sliced Yellow or Red pimentos.