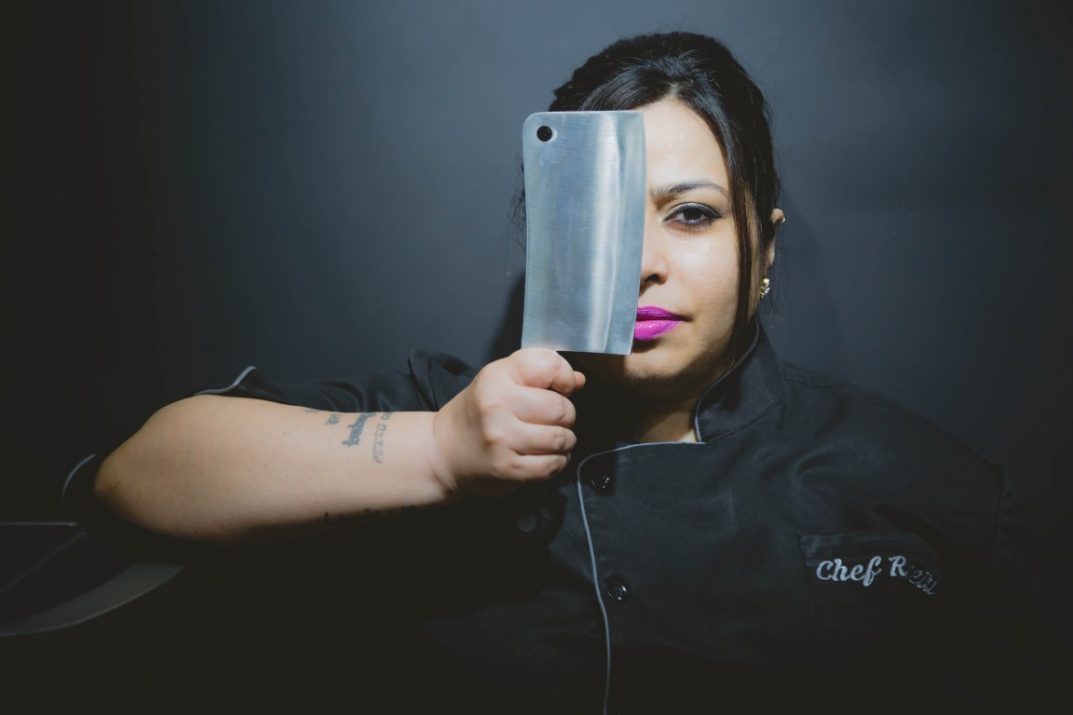 'All that I am or ever hope to be, I owe to my Angel Mother in Heaven.'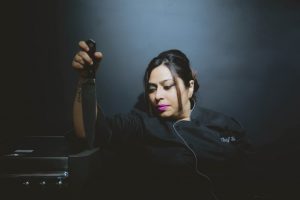 I am presently working as a Grub Panelist with Senhora Magazine,
Chef, Culinary Expert , Food Blogger, Mentor, Hospitality and Food Consultant at http://womenpla.net/
 http://womenpla.net/author/reetu-uday-kugaji/ , Food Author with  www.tanyamunshi.com,
Food Author & Food expert at http://www.mangobunch.com/
 My Blog: https://chefreetuudaykugaji.com/blog/
I run a Facebook page "Food For Thought by Chef Mrs Reetu Uday Kugaji". https://www.facebook.com/chefreetuudaykugaji/
I also have a Facebook group "Knowledge is Wisdom" https://www.facebook.com/groups/471652423010057/
wherein my students and I share a lot of Current / Latest trends in Hospitality, Food, Food Styling, Food Plating and Food Photography.
I am a member of Western India Culinary Association (WICA) and Indian Women in Hospitality (IWH)
Also, I am into writing recipes both Desi that's Indian & Videshi that's International and articles for various online and offline publications.
I have worked as a Chef Consultant and Culinary Expert at "FITMAG" http://www.fitmag.in/ ,Speciality Chef with www.Percept Knorigin.com , www.cinecurry.com , Oxygen Infotainment and www.chefsutra.com   and as a Food Author with www.pioneerchef.com , theurbanspice.com  and www.pinksworth.com
I have also worked as a as a Hospitality and Food Consultant, Speciality Chef and Food Author at www.plattershare.com  from 24th December 2015 to 3rd October 2018.
In the past, I have worked as a Program Head- Culinary Arts, Queen Margaret University, Edinburgh at the ITM Institute of Hotel Management, Nerul, Navi Mumbai.
I have also worked as an Associate Professor-Food Production at D. Y. Patil University, School of Hospitality and Tourism Studies, Navi Mumbai. At the D.Y.Patil University and Stadium, I had been into the menu planning and have prepared the most delectable and exotic cuisines for the Former Hon. President Of India Her Excellency Smt. Pratibha Tai Patil, "The God of Cricket"Mr. Sachin Ramesh Tendulkar, "The Great Wall of Indian Cricket" Mr. Rahul Dravid and various other dignitaries and eminent personalities. Intricately prepared cuisine designed to capture a delicious and exciting range of flavours, textures and aromas. Handled Special Food Preparations for IPL matches, T 20-20, International Cricket Matches at the D.Y. Patil Stadium, Navi Mumbai. So I have cooked the most delectable cuisines for small to very large numbers.
I decided to blog as I wanted to share my knowledge with everyone , who are madly in love with Food and are passionate about food.
Immense faith in God, Dedication, Passion, and Hard work towards the goal helped me rise like a phoenix from Ashes.
Road to success is not always walking on a cake.
I have grown up seeing my mother, cook delectable cuisines for the entire family. I guess that I have got it through my genes. Also, as a child, I knew I wanted to be a chef. Also my role model Chef Satish Arora ji, a chef extraordinaire has always been a constant source of inspiration for me.
I was born in a Punjabi family where my parents were broad minded but I had to face a lot of opposition from the relatives who thought that Hotel management was not a career for the gender female. So much was the pressure that I had to continue with my F.Y.BCom, I successfully completed it , but thought what was I doing with my life. I decided to just sit back at home and told my parents that if I don't pursue Hotel Mgt. to become a chef then I am not continuing with my studies anymore. Admissions to the S.Y.Bcom were about to close, my parents thought I was joking but soon they realized that I am really doing it. 'All that I am or ever hope to be, I owe to my angel mother.' My mother that day decided to take me and get me into one of the finest Institutes of Hotel Mgt.
She paid my entire fees from her savings and got me an admission to my dream world i.e. D.Y.Patil Institute of Hotel Mgt. and Catering Technology, Navi Mumbai.
I knew what she did for me can never be repaid, but least I can do is make her proud. I was always a topper in Academics. I received appreciation from all. I made sure to make her proud by receiving the Certificate of Merit. Constant dedication and hard work in academics -Prestigious Medal and Certificate of Merit in 1995 from His Excellency Honorable Dada Saheb Dr.D.Y.Patil, Former Governor of Bihar and West Bengal and the President of Dr. D.Y.Patil University , Dr. Vijay D. Patil.
With 24+ years of experience in the world of culinary, I believe that food is like oxygen to me. Food for me is God. As my profession demands cooking and tasting Non-Vegetarian foods & in spite of being a pure vegetarian, I perform my duties religiously as I understand the cause behind it is holy and noble. I profoundly believe that food whether vegetarian or non-vegetarian, if cooked with utmost love and positivity touches the heart of a person relishing it.  I am privileged to be a Chef and a Mentor. If I have to say what my biggest achievements are, they would be shaping the careers and motivating thousands of students. I am indeed blessed to see my students excel in their careers and holding immense respect, gratitude and love for me. I believe that the food that I cook / prepare should not only touch the hearts but also the souls of the people relishing it.
Never Give up is what I learnt from my Mother.
I recently lost my beloved mother in November 2016, I thought of quitting my work.  My father Mr. M.S. Arora, and my husband Uday Kugaji literally had to make me understand that I had  to get back to my work for the sake of the students. They had their modules to be completed and therefore were dependent on me. Exactly how I was dependent on my mother for deriving strength.   So after the 8th day I was back in the office only for my kids (my students). Still struggling with the pain of this irreparable loss.
I am an emotional person, I have seen lot of insecure people in my life , who have positions but lack in knowledge, did not allow my work to be in the picture at all.
I strong faith in God made me more confident. I want to tell all those people who are insecure but unfortunately sit on higher positions, Dare to be different, In order to be irreplaceable one must always be different."
This is a humble bow down to all my critics and fake friends, if you wouldn't have pulled me down I wouldn't have risen like a phoenix from the Ashes.
I believe in Karma, I still continue to be humble with all because we all are human and we cannot compare ourselves to be God.
I still trust people, I still believe in Humanity and this world is not a bad place to live in. We have very good people also , who believe in sharing , being happy for you when you are happy and being sad in your sadness.
Each one has taught me something including people who wanted me to fall on my face. Thank you to all for being a part of my life as a blessing or as a lesson.
I owe my success to my Angel mother Mrs. Manjit Arora, My father Mr. M. S. Arora , Uday Kugaji , my husband my biggest support who encourages me to never give up and all my students (My kids) who have been a great inspiration in my life to give my best at all times. I have no regrets, I picked up the positives and dropped all the negatives from my life.
I strongly believe in "Real Chefs Share and Teach".
My message to the budding chefs of tomorrow
"Live as if you were to die tomorrow. Learn as if you were to live forever." 
― Mahatma Gandhi
Learning is an everlasting process, I learn from every one even from my students, from every person I know or I don't even know. Pick up the Positives and DROP THE NEGATIVES.
Upgrading oneself must be constant, may it be skills, training, technology or recent trends in Culinary and Hospitality
Besides being humble, be proud of your roots. Extreme faith in God almighty, Passion, Creativity and lots of Patience is the Mantra to be a great Chef. Dedication, commitment, and destiny will take you a long way.
I believe that if this can happen to me , it can happen to anyone. From a struggling girl to do a Three Year Diploma in Hotel Mgt. & Catering Technology to the Cover page of one of the Leading Magazines to Kalki Gaurav Samman Award 2020, It took immense faith in God , a strong will power , Hard work and dedication. Now I hold a Double Masters…….. I continued with my studies that is completed my graduation and then I did Masters in Tourism Mgt. and Masters in Human Resource Mgt.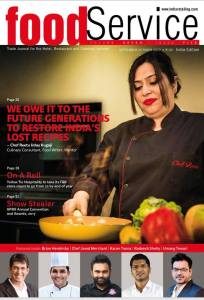 Achievements and Awards:
Achievements and Awards:
Last but not the least Respect to all the Chefs ,Food Bloggers,Home Chefs, Budding Chefs and all related to the Food & Hospitality Industry, who work so hard to bring a smile on the faces of people, even when they are in the toughest times in their professional and personal lives. Food is our language, our Religion and kudos to all of us for speaking the language of Love called "Food".